You are here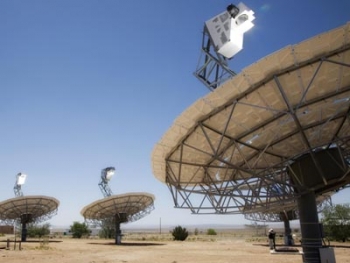 San Antonio is using these unique solar energy systems. | Photo courtesy CPS Energy
They might always remember the Alamo, but such tourist attractions aren't the only thing spurring growth in San Antonio — this Texas city is incorporating solar power into its diversified energy portfolio.
In June, CPS Energy — the country's largest municipally owned energy company (meaning profits contribute to the city's annual budget) — signed a 20-year Power Purchase Agreement to develop a solar project using SunCatcher power systems. These large, concave bowls look like large satellite dishes. Not only will these systems help power Texas, but also they are designed to take advantage of tried-and-true automotive supply chains in the U.S. Rust Belt, using stamped sheet metal, which could help bring new life to manufacturers there.
"The widespread application of solar energy will create new jobs [and have] a beneficial economic impact," Anita Ledbetter, executive director of Build San Antonio Green, the city's residential green building program, says, adding that there are also benefits to be had in better air quality and reduction on the electrical grid's load.
The SunCatcher announcement was followed by the Blue Wing Solar project, a solar electricity production program. This installation will help CPS Energy toward its ambitious goal of achieving renewable-energy capacity equal to 20 percent of customers' peak demand. CPS Energy estimates Blue Wing will create about 100 full-time jobs during construction and several permanent jobs during the project's operation.
While Blue Wing is expected to break ground in early 2010 and produce electricity before 2011, San Antonio's sustainability plan also includes incentives aimed at getting solar panels installed on 50,000 homes and 6,000 businesses as a long-term goal. The resulting energy production is estimated to produce enough energy to fully power 30,000 homes in the city. San Antonio is pushing forward into the clean energy economy.
Of the 25 cities designated by the U.S. Department of Energy as Solar America Cities, three are in Texas. DOE named Austin an award recipient in 2007, and Houston and San Antonio followed in 2008.