Tomorrow, we at the Department of Energy join with all of you, our fellow citizens, in giving thanks.
We're thankful for the little things; for the fair gatherings of food and family and friends; for the tryptophan comas that will kick in amid the fowl football kick-offs. (The Lions are playing...followed by Cowboys and then the Bengals, teams with a combined record of seven wins and 23 losses.)
We're even more thankful for the big things; for our nation; for our proud past and daring future; for the undaunted courage and iconoclastic wisdom of our founders. And this week we can be especially thankful for one of them, an electrifying scientist...who tried to seal us with a turkey.
Balding and bespectacled Ben Franklin (he did invent bifocals, too, after all) certainly looked the part of the classic absent-minded scientist. He played the part as well, flying his kite on a stormy night and suggesting that instead of a bald eagle, America should have chosen a turkey as its national symbol and seal.
That fowl choice aside, Ben Franklin hatched a wide range of truly innovative ideas. He discovered the Gulf Stream and invented swim fins. He figured out Daylight Savings Time and developed the lighting rod. We can thank him for the Glass Armonica and the library chair, for being an odometer maker, a balloon enthusiast and an electricity pioneer.
Franklin may be best known for his shocking discoveries in electricity. But he was also at the forefront of energy innovation. He created a much safer and more fuel efficient heater that today we know as the Franklin stove. And his sayings, "A penny saved is a penny earned," and "A small leak can sink a great ship," are as applicable to personal finances as to smart appliances.
Our scientist-founder's smarts showed in other ways. An author and publisher best known for Poor Richard's Almanac, Franklin started the University of Pennsylvania and served as Postmaster. He's also the only Founding Father to have signed the four documents that created the United States: The Declaration of Independence, the Treaty of Alliance, Amity and Commerce with France, the Treaty of Peace between England, France and the United States, and the Constitution.
Franklin was as original as the America he did so much to create. He left us a legacy that still lives, for in his energetic life we see an example for our future. We're grateful for his countless contributions to our country, even if one of his choices was truly a turkey.
So we salute Ben Franklin, his kite flying high. And just like his country, still daring the sky.
Happy Thanksgiving!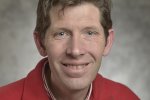 Charles Rousseaux
Charles Rousseaux serves as Senior Public Affairs Specialist and Chief Communicator for Emergency Response and Recovery Efforts in DOE's Office of Public Affairs.
more by this author