You are here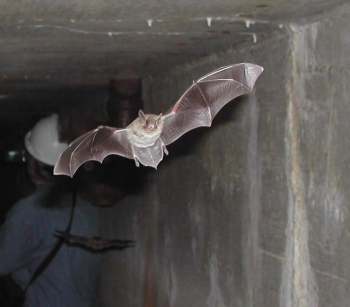 A Yuma bat flying inside the clearwell at 100-F Area. | Photo courtesy of the Office of Environmental Management.
Think about the places where bats roost, and abandoned cab­ins, attics, porches, caves, mines and the undersides of bridges may come to mind.
But not at the Hanford site in southeastern Washington state. For years, Yuma bats have resided in a clearwell, a concrete structure formerly used to filter water from the Columbia River for cooling a reactor.
Home to about 6,000 bats that roost from mid-March to mid-October, the underground structure, about an acre in size, is inside Hanford's 100-F Area. Late this past summer, F Area earned the distinction of the first reactor area on the 586-square-mile site to be fully remediated, a major milestone for Hanford and the Energy Department. Today, all that remains at F Area is the clearwell and the reactor in its cocooned state.
The F Area bat roost is one of the largest known maternity colonies of Yuma bats in the state of Washington. Yuma bats have buff-colored bodies that are about 1.5 to 2 inches long with a wingspan of up to 9 inches.
Workers discovered the bats in 2006 while preparing to demolish the clearwell. Soon after the bats were discovered, Washington Closure launched a study to learn more about them and determine if they could remain in the clearwell. The Energy Department worked with the U.S. Environmental Protection Agency to retain the site as a long-term habitat.
"We didn't want to disturb such an important maternity colony," said Jon Lucas, wildlife specialist for Washington Closure's Environmental Services organization. "With the help of the Department of Energy and the Environmental Protection Agency, we concluded that because the clearwell had no chemical or radioactive contamination, and was structurally sound, it would be preserved."
Initially, there were about 2,000 bats, but the colony has continued to grow over the past several years. The bats thrive on small insects, such as mosquitoes and midges that are abundant along the Columbia River.