You are here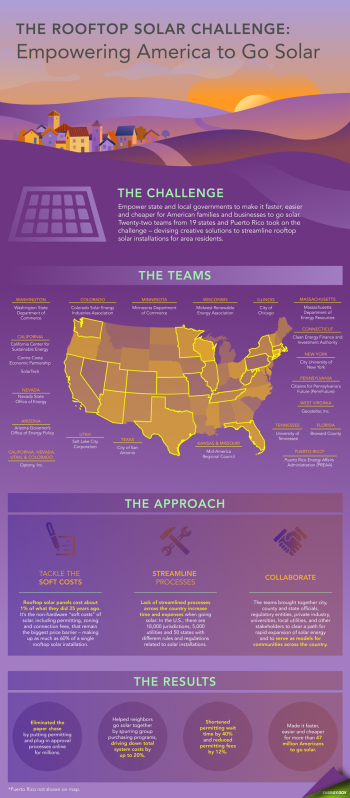 Checkout the infogaphic for an overview of the first round of the Rooftop Solar Challenge. | Infographic by Sarah Gerrity.
Today, Energy Secretary Ernest Moniz kicked off the latest round of the Rooftop Solar Challenge -- an initiative that empowers local governments across the Nation to make it easier, cheaper, and faster for more Americans to go solar. The Rooftop Solar Challenge is spearheaded by the Energy Department's SunShot Initiative -- a national collaborative effort to make solar energy cost-competitive with traditional energy sources by the end of the decade.
Solar panels, inverters, and other hardware components that make up solar energy systems are more affordable than ever before. It is the "soft" costs of solar -- including permitting for installation, interconnection, and maintenance fees -- that represent an increasingly large portion of the cost of solar installations.
To address this "soft" costs barrier, the Rooftop Solar Challenge brings together local officials, utilities, private industry, nonprofits, and other stakeholders to simplify the solar installation process -- from streamlining and standardizing solar permitting for area residents to digitizing many of the administrative steps required.
During the competition's first round, regional teams worked to dramatically reduce the soft costs of solar in 22 communities across the Nation -- serving as models for other communities across the country. These efforts helped cut permitting time by 40 percent and reduce fees by over 10 percent -- opening the door to make it faster and easier for more than 47 million Americans to install solar.
Now, in this latest iteration of the Rooftop Solar Challenge, eight new teams will receive about $12 million in Energy Department investments. Find out more about each of the participating teams in the interactive map below:
Moving forward, the newly-funded Rooftop Solar Challenge teams will build on the momentum set during the competition's first round, driving further soft-cost-reductions to ensure more American families and businesses have access to solar -- an important clean energy resource.