Thousands of Americans are switching to pedal power for their transportation needs as large-scale bicycle sharing programs sprout up throughout the country, making cities greener and residents healthier.
With support from the U.S. Department of Energy's Energy Efficiency and Conservation Block Grant (EECBG) program, Washington and Denver launched bike-sharing projects this year. San Antonio is expected to roll out Texas' first bike sharing system early next year.
Although the shape and color of the bikes vary by city, all of the projects share the same goal: provide residents an inexpensive, convenient and eco-friendly way to get around town.
B-cycle Denver
On Earth Day, Denver unveiled B-cycle, America's first large-scale municipal bike sharing system. Since then, nearly 100,000 rides have been completed and the system has expanded from 40 to 50 stations.
Annual B-cycle members use cards to undock bikes from any of the stations. Non-members can use station kiosks to access the bikes. Riders can return bikes to any open station in the city.
Each bike contains an onboard computer that enables riders to view information such as mileage, calories burned and the amount of carbon emissions avoided.  Members can log onto B-cycle's website to track the data.
Capital Bikeshare
Not to be outdone, Washington unveiled Capital Bikeshare in September. With 1,000 bikes and 114 stations throughout the District and Arlington County, Virginia, the program is largest in the country.
"What we have been able to accomplish and launch here today will be a legacy for a healthier, more vibrant city providing options for travelers looking for an alternate way to travel throughout the region now and for future generations," Washington Mayor Adrian Fenty said at Capital Bikeshare's launch.
The program's fire-engine-red bikes feature front and rear lights, adjustable seats and front storage racks. Bike stations are set up near Metro stations and Circulator bus stops to make it easier for riders to connect to mass transit.
The stations are portable and solar powered and can be set up on the fly anywhere in the city.
"We can assemble and drop it in a matter of a few hours. And then we can expand it, we can move it," Gabe Klein, Washington's director of transportation, told Grist.org.
Capital Bikeshare is among many recent bike friendly projects in Washington. At least 40 miles of bike lanes and 1,000 bike racks have been installed.  The city also completed the 1,600-square-foot Union Station Bike Transit Center  last year, which houses more than 100 bikes at a futuristic-looking glass and steel shelter.
So far, Capital Bikeshare – or CaBi – has been a huge success.  As of Nov. 1, about 4,200 memberships have been sold and 36,700 trips have been taken.
Up next: San Antonio
 Early next year, San Antonio will reveal Texas' first bike sharing program.  San Antonio Bike Share, which is the same as Denver's B-cycle system, will consist of 14 stations and 140 bikes with a central hub. 
"Bike sharing is yet another downtown amenity the city is adding to enhance fitness, improve the quality of life and to encourage commerce and residential living in the urban core," San Antonio Mayor Julián Castro said in a press release.
The program will be operated and maintained by Bike World, a local store. San Antonio's Office of Environmental Policy is overseeing the program, which is receiving support through EECBG and the Centers for Disease Control.
Officials say the program will have multiple benefits. "This program is a win-win for everyone because it will help improve the environment, reduce our dependence on fossil fuels, and encourage people to be more physically active," Laurence Doxsey, San Antonio's Environmental Policy Director said.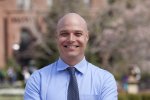 Paul Lester
Paul Lester is a Digital Content Specialist in the Office of Public Affairs. Paul was born in Ohio but spent most of his life in Florida, where he worked as news researcher/archivist and online editor for the Orlando Sentinel.
more by this author