You are here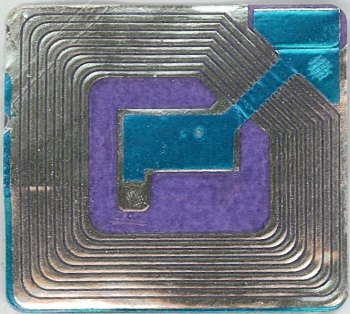 RFID technology is a prime example of how targeted Research & Development can enable the development of a core technology – making information mobile – that has commercial potential as far as the imagination can take you.
From scanning a metro card on a daily commute, to locating a lost pet that's gone missing, radio frequency identification (RFID) tags touch most Americans' lives frequently throughout a given day. RFID technology, which uses radio waves to automatically identify people or objects, was initially developed at the Energy Department's Los Alamos National Laboratory (LANL) in the 1970s to track vehicles and nuclear materials, as well as to track livestock to help control the spread of disease for the Department of Agriculture.
RFID technology is a prime example of how targeted Research & Development can enable the development of a core technology – making information mobile – that has commercial potential as far as the imagination can take you. It's the first in a series of stories we will be showcasing on Energy.gov over the next two weeks that explore the impact National Laboratories technologies have had on Americans' lives through successful commercialization. Like many technology industries, RFID tags have evolved from their initial application to become commercially viable for an infinite range of applications, creating new businesses and jobs in America, including those enabled by smaller and less expensive tags developed more recently at the Energy Department's Pacific Northwest National Laboratory. 
After developing the technology for government use in the 1970s, the team of LANLscientists moved this technology to the private sector in 1983, when they founded Animal Management Technology (Amtech) Corporation, in addition to Santa Cruz-basedIdentronixResearch, to explore RFID commercialization opportunities. Amtech targeted the cattle industry until investor David Cook, a Los Alamos native who founded Blockbuster Entertainment, suggested using the technology to track railroad cars instead. RFID tags not only transmit locational data, but they can derive further information on the contents of the cars, and are much more reliable than optical tracking devices, such as bar codes, that can deteriorate and become obscured along the track. By 1995, Amtech employed about 500 workers and was engaged in a joint venture with Motorola.
TransCore acquired the Amtech in 2000, and by 2008, TransCore's RFID tags had been deployed in transportation applications in 39 countries, with wireless toll-collection systems in use in Florida, Georgia, Texas, Oklahoma and Hong Kong. Based in Harrisburg,Pa., TransCore is now the largest global manufacturer of transportation-based RFID technology with more than 46 million RFID tags and 67,000 readers deployed worldwide in various transportation applications such as electronic toll collection, traffic management, rail, truck, container, barge and intermodal tracking and monitoring, homeland security border control, airport ground transportation, parking and secure vehicle access control.
"RFID's sustained commercial success in transportation built a foundation for RFID developments we see today," said former Los Alamos scientist Jeremy Landt, who helped found Amtech and serves currently as TransCore's chief scientist.
Throughout the late-1990s and early 2000, Pacific Northwest National Laboratory (PNNL) engineers made significant advances in long-range, semi-passive RFID technology, creating tags that are smaller, less expensive, able to be read at high speed, and with over 10 times the range of previous tags. PNNL collaborated with the American Textile Partnership and the Lawrence Livermore National Laboratory to embed the tiny tracking devices into clothing tags. Already by 2008, development activities for the government and internal PNNL projects had led to the creation of over 50 inventions covering novel circuitry, applications and methods to make the tags smaller, inexpensive to produce and able to be read from distances as great as a hundred meters.
These commercial advancements contributed to creating an entire new market for the applications of RFID technology – In 2005, the RFID industry was projected to grow from $1.95 billion to $27 billion by 2015.
In 2000, Battelle, which operates PNNL for the Energy Department, formed a spinoff company called Wave ID to manufacture and market the tags. Within a year, Wave ID was acquired by California-based Alien Technology. By producing high numbers of RFID tags at a low cost, Alien Technology helped drive this technology into the mainstream and is today one of the leading providers of Ultra High Frequency RFID tags. Their tags are used for document tracking, portable equipment tracking in hospitals, baggage tagging, retail inventory tracking and more.
More and more companies, as well as entire industries, are realizing the potential of this technology to transform their business processes. Which means, RFID technology will continue to impact your daily life, with increasing frequency.
Stay tuned for more stories about how innovations from our National Laboratories impact Americans.