You are here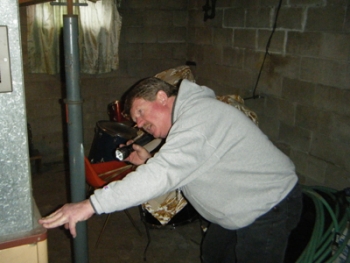 Mark Morris inspects a furnace. | File photo
Getting laid off wasn't the only thing putting Americans in a pickle when the recession hit. Mark Morris of South Bend, Ind., is among many in the country who were already retired, but whose 401(k) account took a big hit when the stock market crashed. Mark had retired as a utility-company supervisor in mid-2007, but he lost 40 percent of his retirement money and knew he had to go back to work.
So Mark made what he could by working part-time gigs until he heard about a job in September with a local community action agency where he would inspect homes for weatherization projects. It's the perfect job for him, considering his utilities background and his love for woodworking, he says. Mark enjoys fishing and doing his own "hands-on" home improvement projects, something he's been able to do better with the skills he's learned from his new job."I thought I was going to be debt-free because I own my home, and I thought I was going to be able to live fine," Mark says. "But just like anyone else, the last thing I want to do is dive too far into my 401(k)."
"I have incorporated a lot of the intense weatherization training I've had into my own home," he says. "I thought my own house was tight, but I'm in the process of sealing it up better now, which is creating a more efficient, comfortable setting for my family."
Recently, Mark helped weatherize the home of a widow in her 80s who could still afford the basics in life, but her rising utility costs had forced her to cut back on heating use, leaving her chilled in her drafty old house. As it turns out, she needed a new furnace, and there were several flaws in the insulation of her attic. By the time Mark left her home, he had fixed all the spots where his equipment detected energy being lost.
"She gave me a hug – she was so pleased," he says. "She was in tears, literally ecstatic. She couldn't thank us enough. She was just tickled pink, and I was so glad to help her."
In another situation, Mark had a woman with children show him her utility bill – complete with the disconnection notice. The family was about $1,200 behind on their bill. Because of his current weatherization training and his previous utility company experiences, Mark was able to show the woman techniques to help bring her bill down.
"We've heard this a lot, you know," he says. "What do you do? Do you buy food or do you pay your utility bills?"