You are here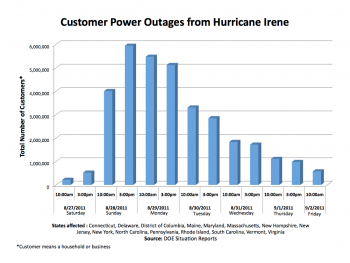 Hurricane Irene struck the East coast last Friday, making landfall in North Carolina. Over the weekend, the storm traveled up the East Coast and into the mid-Atlantic and New England areas of the U.S. In response to Irene, Connecticut, Delaware, District of Columbia, Maine, Maryland, Massachusetts, New Hampshire, New Jersey, New York, North Carolina, Pennsylvania, Rhode Island, Vermont, and Virginia declared a State of Emergency.
Even before Hurricane Irene made landfall, power companies began their standard preparations of pre-positioning repair crews, equipment, and supplies and bringing in "mutual assistance" workers so that once the storm went through and winds were low enough, workers could begin restoring power to customers immediately. Mutual assistance agreements allow utilities to request line crews, contractors, trucks, and equipment from utilities in other States or regions to help restore power. Assistance has come from across the U.S., with some workers coming from as far away as the West Coast. Crews from Canada have also helped in this effort.   
On Sunday -- the worst day for power outages -- nearly 6 million customers had no electricity. While some work remains to be done to restore power on the East Coast, we have seen significant progress since last Friday. Thanks to the commitment and hard work of the utilities and the tens of thousands of workers, power has now been restored to more than 5.5 million customers.
We want to thank the repair crews and support personnel for their continued commitment to work around the clock to restore everyone's power safely as soon as possible. We understand that some of these workers have worked as many as 16 hours a day to restore power, traveled from out of state, and been away from their families.  Please visit the Edison Electric Institute's website  to see the faces of some of these hard-working individuals.