You are here
What was your New Year's resolution this year? Maybe you resolved to get back into the gym and finally lose those last pesky pounds. Maybe, like me, you resolved to finally break down and buy that new furnace. Or maybe you liked Chris' idea, and you resolved do whatever you could to save energy and money this year.
When we talk about saving energy throughout the year, it's easy to forget that we're not just energy users when we're at home. Many of us spend a large part of our days at work, and the energy we use there is significant. According to ENERGY STAR, the energy needed to support just one office worker for a day produces twice as much greenhouse gas emissions as that person's drive to work. Handily, there are a lot of resources available to help you tackle that energy usage at work, and Earth Day (coming up on April 22nd) can be the perfect time to launch a campaign to make the change.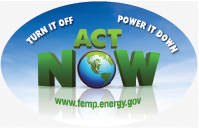 Just in time for Earth Day, the Federal Energy Management Program has some great outreach materials— including posters, bookmarks, post-it notes, and decals—that can help you get your campaign started. Also available is a really useful booklet, Creating an Energy Awareness Program, that provides step-by-step guidance to get your energy awareness program off the ground. Energy Savers and ENERGY STAR both offer even more detailed information on how to make energy improvements in certain specific types of workplaces—from office buildings and commercial businesses to farms and hospitals.
With these resources, you'll be able to get your Earth Day energy campaign up and running in no time. Just keep in mind that you can contact the EERE Information Center for help with ordering Earth Day outreach materials or if you have questions about saving money at work.
Amy Foster Parish is on staff with the Washington State University Extension Energy Program and answers inquiries through the EERE Information Center.