You are here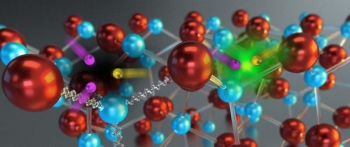 An illustration of nitride-based LEDs.| Courtesy of the National Energy Research Scientific Computing Center.
Despite being cool, ultra-efficient and long lasting, the light-emitting diode (LED) faces a problem called "efficiency droop." New findings from simulations carried out at the National Energy Research Scientific Computer Center (NERSC) have unearthed droop's elusive cause, researchers say, paving the way for wider LED use.
At low power, the nitride-based LEDs used to generate white light are astoundingly efficient; but pump up the current to room-illuminating levels and efficiency decreases. "If you use more electricity, you do get more light, but the efficiency isn't as good, and that adds to the higher cost of LED-based lighting," says Emmanouil Kioupakis, a researcher at the University of California Santa Barbara (UCSB) and lead author of the study.

Published online April 19 in Applied Physics Letters, the research relies on detailed, quantum-mechanical simulations of the inner-workings of nitride-based LEDs to finger the culprit.

The new study doesn't solve the problem of droop, but it does set researchers and engineers on the right path to do so, says Chris Van de Walle, head of the UCSB research group that carried out the work. "Identifying the root cause of the problem is an indispensable first step toward devising solutions."

Margie Wylie is a Communications Specialist with the Berkeley Lab Computing Sciences Team. Read the rest of this article on the National Energy Research Scientific Computing Center site.