You are here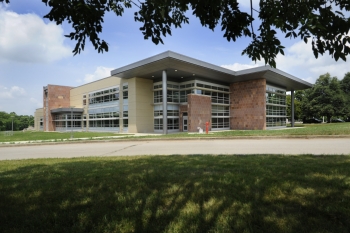 Energy efficiency upgrades -- such as geothermal heating and cooling, nanogel-filled windows, and lighting sensors -- will help the University of Kentucky Center for Applied Energy Research reduce energy use and save money. | Photo courtesy of the University of Kentucky.
The University of Kentucky (UK), known for its winning men's basketball program, can add another item to its list of notables: a state-of-the-art energy-efficient research laboratory. This month, UK celebrated the completion of a newly constructed research laboratory, thanks to an investment from the Energy Department's State Energy Program (SEP) through the American Recovery and Reinvestment Act (ARRA) of 2009. Built to house part of the University's Center for Applied Energy Research (CAER), the new facility includes energy efficiency upgrades that will reduce energy use and help the building achieve LEED Gold status.
CAER's new facility -- which was constructed to expand its renewable and energy storage research -- employs a number of energy efficiency and renewable energy technologies, including geothermal heating and cooling, energy recovery wheels to recapture energy contained in exhaust air, and occupancy sensors to turn off the lights when spaces are not occupied. The facility's exterior and roof contain additional insulation, and nanogel-filled windows provide the same insulation as a brick wall while still letting in natural light. The new building will not only reduce energy consumption by an anticipated 54 percent, but it is also equipped with energy dashboard monitors located in the lobby to track energy use and savings.
In addition to a $3.5 million SEP ARRA investment, the facility was built with funds from a National Institute of Standards and Technology (NIST) Construction ARRA Grant, the Commonwealth of Kentucky, and the University of Kentucky.
The construction of the new 43,000-square foot, high-performance laboratory will lower operation costs of CAER, while increasing education about the numerous energy technologies implemented in the building. The project will allow UK to continue its research collaboration with NIST, as well as the Kentucky-Argonne Battery Manufacturing Research & Development Center, and the Energy Department's Biomass Program Office. The laboratory building will be used for research in biofuels and bioenergy, electrochemical energy storage, development and evaluation of innovative solar PV modules, which will result in the advancement of renewable energy and energy-efficient technologies.