Thank you, Dr. Hon for the introduction. I also want to say a special thank you to Microsoft for hosting us today.
Our two nations are the world's largest economies. And we are also the world's largest carbon producers.
And that means we have the power to shape the future of our planet.
As our two Presidents made clear last November, climate change is "one of the greatest threats facing humanity." Accordingly, they have committed to working together to tackle this challenge, including the announcement of this very trade mission.
This trade mission is not only a product of last year's historic agreement, but it is also an important step in an international effort to lay the groundwork for a successful meeting in Paris, where this year the world's leading nations will convene for an important climate summit.
The joint climate announcement in November built on many years of collaboration between the United States and China.
In 2009, President Obama's first year in office, we began seven Joint Clean Energy Initiatives, including the important U.S.-China Clean Energy Research Center.
Two years ago, President Obama set out his Climate Action Plan. And in his speech at Georgetown University announcing the Climate Action Plan, President Obama specifically mentioned China and President Xi as important partners for climate cooperation.
Last fall, here in China, President Obama and President Xi took the bold step of announcing a historic agreement on our two countries' post-2020 climate targets.
China pledged to peak its carbon emissions around 2030 -- with a commitment to strive to peak earlier. China has also committed to increase its non-fossil fuel share of all energy to around 20 percent by 2030 -- approximately double the share of energy now coming from nuclear and renewable sources here.
At the same time, the United States committed to reduce our emissions by 26 to 28 percent by 2025.
The fact of the U.S.-China announcement has had a huge impact on the nature of the discussions that we are having around the world. It changed the game in terms of the discussion.
And it's within this context that Secretary Pritzker and I are here in China with 24 American companies for this trade mission.
Through government-to government dialogue, and more importantly, through business-to-business cooperation we can bring forward the technologies and business models and policies that will make it possible to fulfill our nations' ambitious climate commitments.
Secretary Moniz often describes technology as a game-changer in bringing forward solutions. It's no accident that he uses that phrase, because like our President's announcements on climate, low-cost, low-carbon technology has the potential to change the worldwide picture on climate.
Driving down the cost of green technologies enables ambitious policies and ultimately makes clean energy goals much easier to achieve.
Lowering the cost of these technologies also enables less-developed economies to join in the shift toward a low-carbon future -- greatly amplifying the impact we can have.
At the Department of Energy, we are involved across the innovation chain to help meet this challenge.
Starting with fundamental science, the Department of Energy drives cutting-edge research directly through our 17 national labs, as well as working with universities and the private sector.
The next link is development -- making breakthrough science into breakthrough technologies.
DOE supports development in the private sector through our Advanced Research Projects Agency--Energy, better known as ARPA-E, which supports companies developing technologies that we believe would be game-changers.
The next link in the innovation chain is demonstration and deployment.
The Department of Energy's Loan Programs Office supports the initial deployments of new technologies – and we have invested over $30 billion already.
This financing is supporting one of the world's largest wind farms; several of the world's largest solar generation and thermal energy storage systems; and the first new nuclear reactors to begin construction in the U.S. in more than three decades.
The Department of Energy's cooperation with China is ultimately focused on the same approach: developing cutting edge energy technologies, driving down cost, and increasing deployment.
With low cost and dependable clean energy technology, governments can make ambitious policy choices when it comes to climate change.

Looking at a specific example, our joint research, development, and demonstration efforts on carbon capture, utilization and storage, or CCUS, offer huge potential for reducing carbon emissions from coal.
China consumes more coal than all other nations combined -- making it a prime market for advanced technology, and a prime benefactor if the carbon currently considered waste can instead be put to use.
In the United States, coal is a critical part of our all-of-the-above energy strategy, and has brought several technologies to the point of pilot projects, injecting carbon into spent oil wells to extract new oil, or using the captured carbon to create fertilizer.
As part of our President's historic November climate announcement, the U.S. and China agreed to work jointly work on major carbon capture and storage and utilization projects, both anchored in joint research and development efforts and commercial deployment.
Working together, we can continue to advance these technologies, drive down costs, and make this important source of energy cleaner to use.
I want to share with you some of the results we've seen in the United States as new energy technology solutions transform our market.
First, wind power is growing rapidly in the United States and is projected to generate as much as 20 percent of U.S. energy demand by 2030.
Second, the cost of Solar PV Modules to consumers has fallen nearly 80% since 2008 and we have seventeen times as much installed solar capacity as we did in 2008. The solar industry is adding jobs 10 times faster than the rest of the American economy.
Third, LED Lights last as much as 25 times longer than incandescent bulbs and are highly efficient – projected to save Americans over $30 billion a year by 2030.
Fourth, Electric Vehicles sales continue to rise in the U.S. and in China.
We aim to build on these successes both in continuing to deploy these technologies and pushing the envelope with the next generation of cutting edge technologies, making possible mutual growth in our economies, and the accompanying emissions reductions we both seek.
I started this speech by pointing out that as the world's largest carbon emitters and largest economies, we are two of the most important nations advancing on the road to Paris. Together, we have the power to change the course of history, literally.
And together we can also begin to pave the road beyond Paris, when the world can look to us for solutions, as the two largest producers and consumers of clean energy.
With that in mind, it is now my great honor to introduce the United States Secretary of Commerce, Penny Pritzker.
I have known Penny since 1977, when we met on the first day of our freshman year at Harvard University. We had both been born and raised in California, and we crossed America to attend school in Massachusetts. She then returned to California to receive law and business degrees from Stanford University.
Since then, Penny has distinguished herself as an extraordinary leader in both the public and private sectors. Penny is a builder in everything she touches.
She has built many successful businesses, including Classic Residence by Hyatt, the Pritzker Realty Group, and Artemis Real Estate Partners. She has played a leadership role in building up the great city of Chicago – where she lived until moving to Washington to serve as the Secretary of Commerce.
Over the decades she has been a major force in building national capacity in education and the arts as well as in our national political life – including by building an operation that raised an unprecedented amount of money in the historic election of President Obama.
Now, we are very fortunate to have her building strong commercial ties between the United States and China in her current role, and look forward to hearing from her today about this important mission.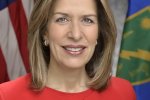 Dr. Elizabeth Sherwood-Randall
Dr. Elizabeth Sherwood-Randall was nominated by President Obama to be Deputy Secretary of Energy on July 8, 2014, and was confirmed by the United States Senate on Sept. 18, 2014.Dr. Elizabeth Sherwood-Randall was nominated by President Obama to be Deputy Secretary of Energy on July 8, 2014, and was confirmed by the United States Senate on Sept. 18, 2014.
more by this author