REEcycle from the University of Houston won the Energy Department's National Clean Energy Business Plan Competition today. The competition, now in its third year, is part of President Obama's Startup America Initiative, which aims to celebrate, inspire and accelerate high-growth entrepreneurship throughout the nation.
To rise to the top of the competition, REEcycle developed a profitable way to reclaim rare earth elements from magnets in electronics. Rare earth elements are critical to manufacturing clean energy technologies, including wind turbines, energy-efficient lights, thin-film solar cells and motors and batteries for electric vehicles. The company acquires used electronics from recyclers and extracts rare earth elements using a patented solvent combined with low temperatures.
As the winner of the competition, REEcycle will receive technical, legal and other assistance from competition sponsors to help grow their business and commercialize their clean energy technology. The team also won the People's Choice Award, which was decided by a public vote on Energy.gov, and the Audience Investor Choice Award, a new award this year that was determined through live audience participation.
Each of the six regional finalists of the competition presented their business ideas to a prestigious group of judges from the public and private sectors and created a business plan around a promising clean energy technology developed at a U.S. university or one of the Energy Department's National Labs. The plans detailed how the teams could bring that technology to market, including financing, product design, production scale-up and marketing. Over the course of the two-day competition, entrepreneurs also had the opportunity to hear from clean energy, government and finance experts -- gaining insight into how they can fund their clean energy innovations.
The other five finalists included teams from Georgia Institute of Technology, Michigan State University, Ohio State University, University of Colorado Boulder and Massachusetts Institute of Technology.
The competition is one way the Energy Department is inspiring some of the country's best and brightest students to become the next generation of entrepreneurs who are bringing clean energy technologies to market. Since the competition started, participants have formed 57 ventures, raised more than $26 million in funding and created 118 jobs -- helping to grow the clean energy economy and develop innovative technologies that make the planet more sustainable for future generations. 
Congratulations to the winners and all of this year's participants!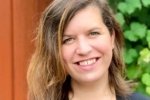 Jennifer Garson
Jennifer is the Director of the Water Power Technologies Office, as well as a Senior Advisor and Acting Program Manager for Outreach, Engagement and Analysis in the Water Power Technologies Office at the U.S. Department of Energy, where she supports research and development in hydropower and marine renewable energy.
more by this author