You are here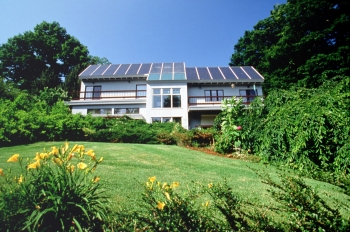 This solar powered residence was commissioned by Boston Edison as a demonstration of future trends in design and technology that would become commonplace in the early decades of the next millennium. Today, the Energy Department's SunShot Initiative is seeking to accelerate innovation and aggressively drive down cost through various funding opportunities. | Photo courtesy of Solar Design Associates.
The deadline to apply for a funding opportunity for the SunShot Incubator Program for Soft Cost Reduction is January 16, 2012.
What if all cars cost more than $75,000 today? How many of us would own one? This is exactly the situation your great-grandparents may have faced before Henry Ford changed the world by thinking outside the box. Through innovative assembly line processing, he democratized automobiles, making the Model T something most Americans could own.
The solar industry is in a similar situation now. Solar is an exceptionally compelling solution to addressing one's energy needs, but it is currently too expensive for the average customer. But just like cars, once the price is lowered to a certain point, solar energy could be on exponentially more roofs. We need help though. We need innovative thinkers to change the industry by thinking outside the panel. We need you.
Nearly half the expense of a solar installation does not come from the solar panels that convert sunlight into electricity, but rather from "soft costs" -- customer acquisition, installation, permitting, and interconnecting systems with utilities. Cutting these "soft costs" will help make buying and installing solar energy systems affordable for families and businesses. That's why we are asking startups and small businesses for ideas to slice the price of solar power as part of the Energy Department's Sunshot Initiative.
The SunShot Initiative is seeking to accelerate innovation and aggressively drive down costs through various funding opportunities. We are looking for ways to lower the costs of locating and educating customers, installing systems, financing projects, streamlining permitting, and speeding inspection. Together, these costs can represent up to 40% of the overall cost of new solar systems.
Interested entrepreneurs, IT professionals, and finance experts can seek backing for their solutions by applying for up to $500,000 to develop a prototype for an idea, or around $1-2 million to take an early stage product to a version 1.0 launch. We have approximately $7 million waiting to fund the next big, innovative idea through the SunShot Incubator Program for Soft Cost Reduction. But you have to hurry. The deadline for concept papers is January 16, 2012. Take a look at the Funding Opportunity, then get ready to reduce soft solar costs.
Consumers love more affordable prices, whether for cars or solar energy systems. So innovators, start your engines and spread some sunshine.