On Friday, Deputy Secretary of Energy Daniel B. Poneman traveled to Detroit, Michigan to speak to labor and environmental advocacy groups at the BlueGreen Alliance's Good Jobs, Green Jobs conference, tour Diversified Chemical Technologies, Inc. headquarters, and speak with students at Wayne State University. Throughout the day, Deputy Secretary Poneman highlighted the Energy Department's work to win the global race for a clean energy economy by investing in American workers, manufacturers, and the next generation of leaders, students.
In the morning, he gave the keynote address to open the second day of the BlueGreen Alliance's Good Jobs, Green Jobs conference. During his remarks (which you can watch above), Deputy Secretary Poneman focused on the revival of the U.S. auto industry under the Obama Administration, noting that, in the last two years, the industry added more than 160, 000 jobs—with possibly 100,000 more on the way over the next few years.  And just last year, for the first time in roughly two decades, Chrysler, Ford, and General Motors all increased their U.S. market share. Poneman went on to outline how we continue to work together to lead the global market and build the next generation of cars to sell around the globe – including fuel-efficient vehicles that will save consumers money at the gas station here at home.
Specifically, Poneman highlighted President Obama's announcement of new fuel economy standards, the strongest yet, to increase U.S. fuel economy to nearly 55 miles per gallon for cars and light-duty trucks by Model Year 2025. These standards are not only a win for consumers and manufacturers, but also for the U.S. economy and our planet. By 2025 these standards will save families an average of more than $8,000 in fuel costs per vehicle, reduce oil consumption by 2.2 million barrels a day, and keep more than 6 billion metric tons of greenhouse has emissions from polluting the air we breathe.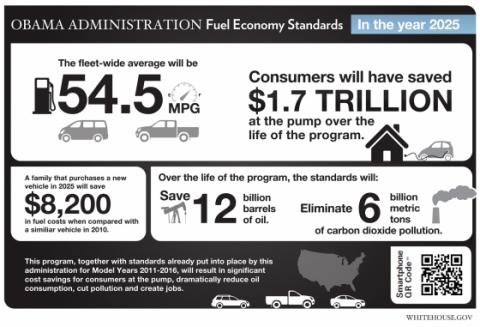 Infographic regarding President Obama's new fuel standards
Fuel-efficient vehicles are just one way the Energy Department is working to win the race for clean energy and reduce our dependence on foreign oil. Poneman went on to highlight advances in battery technology for EV's, lightweight materials for vehicles and alternative transportation fuels. But also he noted that American workers and manufacturers are the backbone of this country, and by continuing to invest in clean energy technologies – from wind to solar to geothermal – we can create jobs and lead the world in the 21st century.
After speaking at the BlueGreen Alliance Conference, Deputy Secretary Poneman visited Diversified Chemical Technologies (DCT). DCT is a minority-owned chemical production company that designsand produces innovative chemical materials for a variety of applications, including vehicles and electricity transmission. A quarter of DCT's workers focus on research and development, developing sustainable and environmentally friendly product solutions for American businesses and manufacturers.
Later in the day, Deputy Secretary Poneman met with students at the College of Engineering at Wayne State University (WSU). WSU's College of Engineering features interdisciplinary programs in fields such as biomedical engineering, entrepreneurial engineering, alternative energy, electric-drive vehicles, and smart sensors.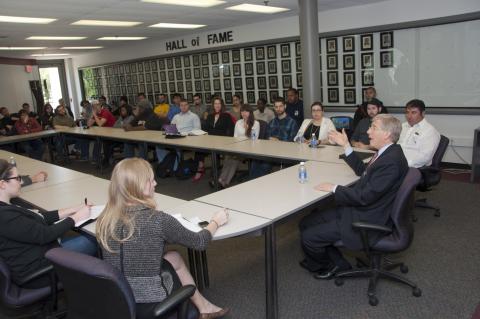 Deputy Secretary Poneman speaks with Wayne State University students
While at WSU, Deputy Secretary Poneman spoke about the Administration's work on keeping interest rates on student loans low, the importance of STEM education, and how young researchers, entrepreneurs, and thinkers will create the great science and technology breakthroughs in the years to come. He noted that STEM workers drive American innovation and competitiveness and are at the heart of how America can win the clean energy race. He also encouraged students to stay engaged and vocal about the energy issues that interest them.