You are here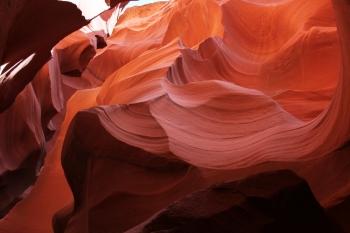 Antelope Canyon is a picturesque slot canyon near Chris Deschene's boyhood home in the LeChee Chapter of the Navajo Nation. | Photo courtesy of Flickr user Airflore.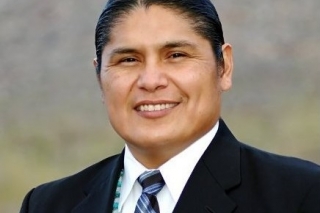 "Working as a federal employee, it's really about service and giving back to those communities. So out of respect, out of love for our people, I'm able to use my position to help this office hopefully improve people's lives." -- Chris Deschene
Chris Deschene may be new to the Energy Department, but you could say he's been preparing for this job his whole life.
Just eight weeks into his new role as director of the Office of Indian Energy Policy and Programs, Deschene is navigating what he called a "crash course" in the agency using his decades of experience with tribal and energy issues -- going back to his childhood on a Navajo reservation in northern Arizona.
With today's White House announcement that five Native American tribes are receiving technical support from the Energy Department's START Program, we caught up with Deschene to see what else is going on in his busy world.
Read on for more about his past, his hopes for the future, and the one thing he wants everyone to know about the Office of Indian Energy.
So Chris, tell us a little about your background. Where did you grow up?
I'm from the Navajo Nation on the Arizona side, near Lake Powell. It's a small Navajo chapter on the high desert plateau called LeChee, which means "red rock." That community sits just south of Glen Canyon Dam and adjacent to Navajo Generating Station, a 2,250-megawatt coal facility.
Energy is a way of life there. Lots of folks work at either facility, and you can see the intersection of politics, business, power and natural resources moving in and out.
All that had an effect on me from a young age, and I think it was a natural progression for me to follow a career in energy.
How did you come to work at the Department of Energy?
I'm an engineer by trade. I graduated from the Naval Academy with a mechanical engineering degree. I did two tours as a Marine officer, and after I got out of active duty I continued as a reservist for a total of 10 years of military service.
When I went back to graduate school, I started working with the Intertribal Council of Arizona as an energy resource planner helping Arizona tribes with Colorado River power allocations. That's how I began my work with energy, with tribes, and development and support of tribal infrastructure.
While I was getting my master's in renewable energy development, I also went to law school and took an internship with my senator on Capitol Hill at a time when several key energy policy acts were going forward. That's really where I learned the inner working of federal agencies.
I graduated from law school and worked in the private sector as a development attorney for tribes, helping with national discussions and debates on critical energy issues. I later got into politics, ran for office, and in the end I was helping tribes look at large-scale development, community size, residential policy -- just a really diverse portfolio of experience.
So, that policy background, my work in law and Indian country, plus my service to communities all met at a crossroads with the Department of Energy.
Lots of people may not be familiar with the Office of Indian Energy. Can you talk about the work your office does?
Really, if we want to simplify it, the office was designed to do three things. First, we're trying to support tribes through capacity building programs. Things like building strategic energy plans, helping them understand energy markets -- that's all capacity.
Second is technical assistance. That includes feasibility studies, reviewing existing projects, and providing recommendations using experts from across the Energy Department.
The third part is financial assistance -- grants and the Tribal Indian Energy Loan Guarantee Program. All three of these elements are helping build tribal energy projects in Indian country.
Why is it so important for the Energy Department to foster these relationships with the tribes? 
A lot of the Energy Department's critical missions -- national security, energy infrastructure, energy security, and so on -- overlay and tie into what tribes have.
For example, tribal communities have less than 2 percent of the land base in the U.S., but can support up to 5 percent of the energy installed capacity -- including renewables, solar, geothermal -- so Indian country has a lot of potential to help those national goals and concerns.
At the same time, we want to build a relationship that's founded on cooperation and mutual priorities. The Department of Energy supports many initiatives -- working to reduce climate change, for instance -- that are already consistent with what tribes are doing.
It's in our interest to be good partners, to be good stewards of our resources, and also help improve our way of life.
What's the most rewarding aspect of your work?
I tell people it's my dream job. This position is at the intersection of law, energy, development and tribes, which really fulfills everything that I wanted to do.
It's great to be on the "varsity" -- with the Department of Energy -- working to benefit tribes at the highest level. But it's also rewarding to be a part of tribal development "in the trenches," on the ground in Indian country, meeting with tribal leaders and looking at the needs there.
My job is to help bridge the two, so that our resources can enable tribes to implement programs and projects that support their people, their communities, while at the same time contributing to national priorities like electricity generation and transmission.
Working as a federal employee, it's really about service and giving back to those communities. So out of respect, out of love for our people, I'm able to use my position to help this office hopefully improve people's lives.
And that's very rewarding on a personal and a professional level.
What's one thing people should know about the Office of Indian Energy?
We're here to serve. I tell that to all the tribal leaders that I meet. I'm here to serve -- we're here to help our communities in any way or any capacity we can.
By spreading that message, my hope is that tribes become involved, actively participate, and make the changes that improve the Energy Department's ability to provide service.
So, what's ahead for you?
See that board right there? [He laughs, indicates a large whiteboard filled with priorities written in dry erase marker.] That's what I'm looking at.
But really, it's about improving our ability to provide resources. We're working to fill out the office to its full staff capacity, as well as having a presence around the country with all the tribes and villages and saying, look, we're here to help.
It's also about giving confidence to the tribes that the place to go for Indian energy support is the Department of Energy. That's consistent, I think, with Secretary Moniz's goal, the Administration's goal to be leaders in climate change, in energy infrastructure, security -- these are all the same concerns that tribes have.
The future is bright, because we haven't even begun to touch the potential of opening Indian energy infrastructure and capacity. And when we do that, the Energy Department is going to be the place to be for everything Indian energy.