You are here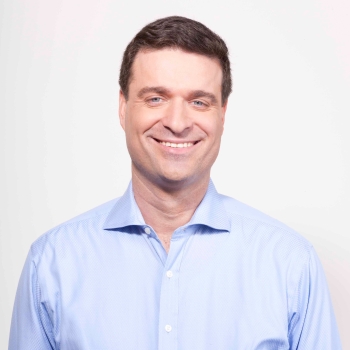 Aaron Shapiro is an Apps for Energy judge and CEO of Huge, a full-service interactive agency that specializes in building digitally- driven businesses. | Photo courtesy of Huge.
On Tuesday, May 22, we'll be announcing the first round of winners for our Apps for Energy contest. This competition challenges developers to build applications that help residential and commercial customers better utilize their energy usage data to save money by saving energy. Leading up to the announcement, we take a moment to talk with Apps for Energy judge, Aaron Shapiro.
As CEO of Huge, Shapiro helps companies reimagine how they interact with their customers and manage their businesses in the digital economy. Shapiro is the author of "Users, Not Customers: Who Really Determines the Success of Your Business" and is a regular commentator on the impact of digital technology on businesses and the economy. Here Shapiro shares his thoughts on everything from what makes a good software application to the role developers can play in transforming government.
What do you personally find valuable about the Apps for Energy competition?
It's great that the Department of Energy (DOE) is investing in the use of technology and user-centric digital design to help businesses use less energy and save money. In addition to leveraging data and technology to solve these problems as efficiently as possible, it's very exciting that DOE is supporting the tech startup community by empowering and funding innovative developers.
Apps for Energy challenges developers to help consumers get the most out of their utility data – what key qualities do you think a software application should have to achieve this successfully?
The ideal apps will be user-friendly, easy and fun to use. They'll also present the data in a meaningful way that's easy for users to visualize and understand.
Initiatives like Apps for Energy and Green Button are a few ways we're working to bridge the gap between government and the tech community – what more do you think needs to be done in this space?
Any synergy between government and technology is extremely valuable, especially as all companies and organizations must become truly digital in order to survive. Digital solutions to citizens' every day problems can potentially save the government millions of dollars and actually improve the quality of people's lives at the same time.
What are your thoughts on engaging the developer community in addressing energy-focused issues, like clean energy?
While many developers are focused on creating apps that seem fun and exciting, there are also many who are thrilled by the idea of truly changing the word through technology. Solving energy-focused problems is a fantastic way for developers to affect real social and environmental change.
Drawing from your own experiences as CEO of Huge and as a technology entrepreneur – what key advice would you have for those interested in following a similar path?
I would recommend that aspiring tech industry executives learn as much as possible about the technology that powers their products. After I founded my first startup, I taught myself to code, once I realized that I needed to be able to effectively communicate with my developer team. The developers entering the Apps for Energy competition are already one step ahead of everyone else in the digital age, since they already know how to code and know how these products work from the inside out.
Finally, what do you think developers need to keep at the forefront of their minds when it comes to thinking about the users of their applications?
When you're building a product, stop and ask yourself if you would use it instead of the market leaders. If the answer is yes, keep going. If it's no, then stop and rethink what would make you want to use it.