You are here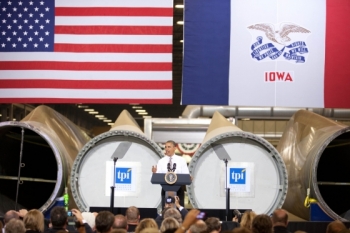 President Barack Obama delivers remarks at TPI Composites wind turbine blade facility in Newton, Iowa. | Photo Courtesy of the White House.
Editor's Note: This post originally appeared on the White House Blog.
In Iowa this afternoon, President Obama continued to press lawmakers to take action on his To-Do List for Congress.
He traveled to Newton, Iowa to push for the renewal of a tax credit for companies that produce clean energy. The credit currently supports as many as 37,000 jobs.
His host for the visit was TPI Composites -- a company that makes blades for wind turbines and employs more than 700 people.
"If Congress doesn't act, companies like this one will take a hit," he said. "Jobs will be lost. That's not a guess, that's a fact. We can't let that happen."
Currently, 20 percent of all the electricity used in the Iowa is generated by wind power, and there are currently more wind power jobs in the state than in any other in America.
Overall, the United States generates enough electricity from wind to power 10 million homes. And there are 500 production facilities in 43 states putting people to work in that industry.
Later, he answered questions about the To-Do List on Twitter.