You are here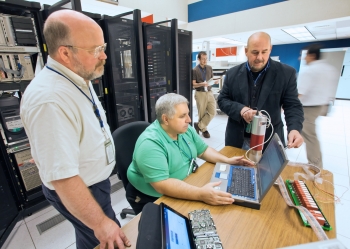 Charles Gentile (center) and other members of the MINDS team, including Ken Silber (right) and Bill Davis (left) work on new techniques to identify radionuclides. | Photo by Elle Starkman/Princeton Plasma Physics Laboratory Office of Communications
A software system designed by the Energy Department's Princeton Plasma Physics Laboratory (PPPL) originally to help decommission a nuclear reactor is now on its way to helping federal authorities detect hidden nuclear materials, including "dirty bombs," in airports and shipping terminals around the world. 

MINDS -- short for "Miniature Integrated Nuclear Detection System" -- was originally designed to help with the task of decommissioning the Tokamak Fusion Test Reactor (TFTR) in 1999, when a team of PPPL scientists led by Charles Gentile, one of the lab's leading experts in radioactive materials, realized that in order to safely disassemble the TFTR chamber, they needed a way to detect the types of elements inside of the reactor. Faced with this challenge, the team created a lightweight, portable detection unit that could be lowered into the reactor chamber and accurately identify a number of radioactive materials. Gentile and his colleagues were able to successfully identify the radioactive materials inside of the reactor -- and the TFTR was dismantled safely and securely.


Fast forward to the weeks following the terrorist attacks of Sept. 11, 2001. In effort to guard against radiological attacks, federal authorities issued a nationwide call for devices that could detect hidden nuclear materials. Gentile and his team submitted their proposal for MINDS -- and with funding from both the Energy Department and the U.S. Army, the software was modified to identify radioactivity and detect if that radioactivity was actually a threat. Gentile says that background radiation is more common in the outside environment than people realize, including signals from medical tests, weather and harmless products like kitty litter or some types of pottery that can easily skew results.


The subsequent Energy Department-U.S. Army collaboration resulted in a licensing agreement with InSitech, which allowed the MINDS technology to be commercialized. InSitech, a nonprofit that works to bring government-developed technology to market, and holds an exclusive license for marketing MINDS for Princeton University, which runs PPPL. MINDS has now been deployed at military installations, ports and a major commuter rail station.



San Francisco-based Veritainer, an international container security device company, recently entered a partnership with MINDCo, Inc., an entity marketing the software under an exclusive licensing agreement with PPPL. This is just the most recent application of this evolving technology, which has been successfully tested in train stations, airports and major harbors, showing that it can accurately identify threat of radiation and identify potential nuclear threats within seconds without disrupting commerce.


In its current capacity in shipping terminals, the MINDS software is mounted on a crane and then scans a cargo container in a quick 20 seconds. The program instantly sets off an alert if it detects something suspicious. According to Lawrence Alioto, executive vice president of Veritainer, the potential market demand could be about 10,000 crane systems internationally.  


So what's next for MINDS? A handheld version of the system is currently in development and could put the technology into even more widespread use.  


The scientists working at PPPL are no strangers to technology transfer, otherwise known as the application of cutting-edge technology developed in the lab to the marketplace, where it's actually put to use. To learn about PPPL's many other Technology Transfer projects currently underway, visit the website.