You are here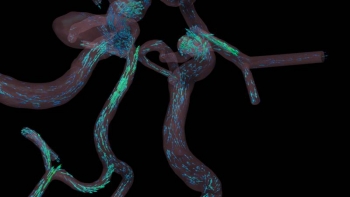 Blood flow visualization | Photo Courtesy of Argonne National Laboratory
With the power of 500 trillion calculations per second, a team of scientists from the Department of Energy's Argonne National Laboratory (ANL) and Brown University are mapping the movement of red blood cells -- hoping this will lead to better diagnoses and treatments for patients with blood flow complications.

Argonne's Blue Gene/P supercomputer has allowed these scientists to create detailed models of blood flows that help doctors understand what happens at the molecular level, and consequently how heart and blood diseases can be treated.

One part of the study is mapping exactly how red blood cells move through the brain. For example, last year the team used similar modeling to discover that the malaria parasite makes its victims' red blood cells 50 times stiffer than normal. Another part of the study seeks to understand the relationship between cerebrospinal fluid and blood flow in the brain.

All of this research was made possible through the Department's Innovative and Novel Computational Impact on Theory and Experiment program, which awarded the Brown/ANL team 50 million processor-hours.
Check out more on how supercomputers can help scientists treat blood diseases.