You are here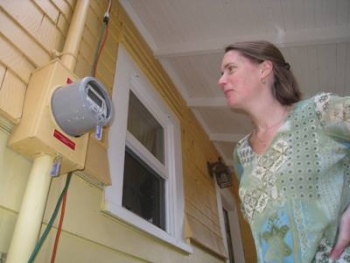 Laura Smoyer checks the net-metering device in her home, which now uses the sun for about 38 percent of its total energy use. | Department of Energy Photo |
A quick Web search reveals that many sources consider Portland, Ore., to be one of the most green-minded cities in the United States. But large upfront costs have been a barrier for citizens looking to install solar power systems in the past. Now, a neighborhood solar initiative is helping communities organize to get solar discounts, meaning the city could become even greener.
By making bulk solar system purchases as a group, communities are able to drive down costs by about 15 percent. When coupled with Oregon's tax credits that bring costs down another 80 percent, the city's residents have been able to install 2 kW systems for about $600.
"It really makes the cost of going solar quite affordable," Lee Rahr, the city official who oversees the program, says. "People are really excited, and we're seeing additional benefits to this — carbon reduction, energy-efficiency upgrades, reroofing projects for businesses in the city and its energizing the communities by getting people to be active."
Folks in Portland are engaging their neighbors to encourage participation by posting fliers in schools and with viral messaging on social media Web sites. Once enough residents of a single community sign on, contractors make a bulk purchase on their behalf and get a discounted price from manufacturers. So far, about 80 systems have been installed in southeastern Portland, and at least 150 more households have indicated a serious interest in going solar.
Laura Smoyer is a resident who was persuaded to get on board by a friend. She had always wanted to install solar panels, but it wasn't until the Solarize Portland program came along that the move seemed "effortless and inexpensive."
After tax rebates, Laura's out-of-pocket cost will be only about 5 percent of the original total cost of the installation on her home. About 38 percent of her home's power will now come from the sun.
The U.S. Department of Energy has partnered with Portland as part of its Solar America Cities program.