You are here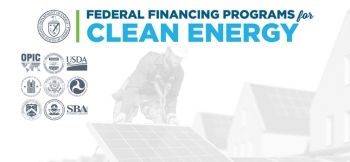 Not long ago, we let our "fingers do the walking" when searching for categories of businesses in the Yellow Pages. Now the Internet provides us with all that information at the click of a button.
Single-click access was the Department's goal when it first published a government-wide guide to federal financing programs for clean energy in 2013. Today, the Department is releasing the third edition of this guide, "Federal Financing Programs for Clean Energy," which provides an overview of clean energy financing programs available through ten agencies from across the government.
Like the Yellow Pages, the guide is organized so that users can more simply find what they are looking for, either by types of financing programs or by federal agency. The guide includes programs from the U.S. Departments of Agriculture, Energy, Housing and Urban Development, State, Transportation and Treasury, along with the Environmental Protection Agency, Overseas Private Investment Corporation, and the Small Business Administration.
Additionally, the guide's overviews and case studies make it easier for state, local and tribal leaders and their private sector partners to understand what types of federal financing for clean energy and energy efficiency projects are available.  For every program listed, the guide identifies contact information to answer questions and provide additional direction.  The guide also now includes information about clean energy financing programs for international projects in addition to domestic projects.
Specific to financing opportunities within the Department, the guide features the Loan Programs Office (LPO), which issues loans and loan guarantees to help finance innovative clean energy projects and advanced technology vehicles manufacturing projects. To date, LPO has issued loan and loan guarantees for more than $30 billion of projects.  Programs listed in the guide also compliment activity of the Department's Clean Energy Investment Center (CEIC). 
Secretary Moniz is presently hosting his international counterparts and high-level delegates at the Clean Energy Ministerial in San Francisco to discuss how nations can advance clean energy. We hope that this guide can be a helpful tool for those efforts in the U.S. and abroad.