Climate change is one of the most urgent environmental challenges of our time. The good news: we have the technologies that can help solve it. While more work needs to be done, we've made tremendous progress thanks in part to Energy Department research and development.
Scroll through the photo gallery to see just a few of the ways the Energy Department is addressing climate change through technologies that cut carbon pollution, grow the economy and protect the planet.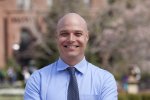 Paul Lester
Paul Lester is a Digital Content Specialist in the Office of Public Affairs. Paul was born in Ohio but spent most of his life in Florida, where he worked as news researcher/archivist and online editor for the Orlando Sentinel.
more by this author