Six highly skilled and ambitious engineers. Six weeks of intense focus. One stunning 3D-printed, all-electric vehicle. These are the results of an Energy Department-supported project that could help shape the future of American manufacturing.
A build team of experts from the private and public sectors printed and finished an electric vehicle version of the 50th-anniversary Shelby Cobra, from concept to drivable car, in just six weeks. As you can see in the photo gallery above, the all-electric car looks cool -- but the real beauty lies underneath its eye-popping design.
Here's a breakdown of the new manufacturing technologies used to make this car and why they matter:
Energy efficient manufacturing processes. Five hundred pounds of car chassis parts were printed at Oak Ridge National Laboratory's Manufacturing Demonstration Facility using technology called the Big Area Additive Manufacturing machine. The machine printed the car from the bottom up, depositing materials only where required. This means less wasted material than conventional manufacturing.
Lightweight advanced composite materials. Composed of thermoplastic resin and carbon fiber, the materials used in the car are lighter than steel, aluminum and other substances. These materials help improve fuel efficiency without compromising performance.
Plug-and-play design. The car's design allows researchers to quickly and easily swap in technologies that can make vehicles more sustainable, including a motor propelled by wide bandgap power electronics. This "laboratory-on-wheels" concept gives engineers the flexibility to test components in real time and identify new ways to improve energy efficiency.
First-of-its kind finishes. High-quality surface finishes are critical for industry applications like making hood, door and fender parts. To achieve a polished look in the Shelby Cobra, the 3D-printer's nozzle was fitted with a smaller bead size, and Tennessee-based Tru-Design LLC developed a new process for bonding and painting based on the car's materials chemistry. This process could serve as a model for future large-scale 3D-printed vehicles and products.
This project was made possible by support from the Energy Department's Advanced Manufacturing Office and Vehicle Technologies Office. The promising technologies used to make the car could help America steer down the road of a more sustainable future. View the photo gallery above and watch this video to see how the car was created.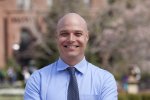 Paul Lester
Paul Lester is a Digital Content Specialist in the Office of Public Affairs. Paul was born in Ohio but spent most of his life in Florida, where he worked as news researcher/archivist and online editor for the Orlando Sentinel.
more by this author