Today officially marks the start of summer and with that comes baseball games, backyard BBQs and trips to the pool. But if you're a parent of school-aged children, it also means finding activities to keep your kids entertained during summer vacation. This summer, keep your kids engaged with fun and educational energy-related activities.
Whether you're looking to explain how energy sources have evolved over time or ways to reduce your family's energy use, the Energy Information Administration's Energy Kids website is the place to go. With energy calculators, puzzles, games and more, Energy Kids has everything to teach your kids the basics about energy.
If you're looking for hands-on activities, check out the Energy Department's Energy Education site. Here, you'll find energy-related labs, games and activities for grades K-12. From building a solar pizza box oven and calculating your carbon footprint to creating a draft-o-meter that helps kids find air leaks around the house and developing a basic wind turbine, these activities make energy fun to learn. You can also find an activity book with crosswords and energy facts and a coloring book on renewable energy -- both are easily printed right at home.
ENERGY STAR Kids is a fun, interactive site that teaches kids how becoming energy efficient can help save our planet. Kids can learn how small changes around the house -- like using sleep mode on computers and plugging electronics when they aren't being used -- make a big difference.
So when you're not grilling, swimming or playing ball, spend some time this summer teaching your children about energy with educational activities.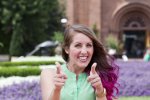 Rebecca Matulka
Served as a digital communications specialist for the Energy Department.Served as a digital communications specialist for the Energy Department.
more by this author