You are here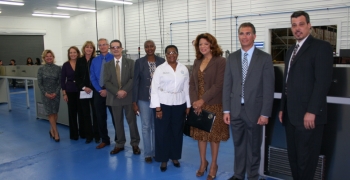 Smart for Life received a loan from Palm Beach County's revolving loan fund program to expand its production facility and boost its overall energy efficiency. | Photo courtesy of Craig Stephens, Palm Beach County.
Palm Beach County is a prime example of a community that is embracing energy savings to spur economic development. Smart for Life -- a manufacturer and distributor of nutritious food products -- opted to keep its production facility in Florida rather than move to Mexico, after receiving support from a revolving loan fund (RLF) program provided by the Energy Department's Energy Efficiency and Conservation Block Grant Program.
Smart for Life received a loan from Palm Beach County's RLF program to boost its production facility's overall energy efficiency, including installing new electrical wiring, lighting, insulation, a solar hot water heater and an air-conditioning system. Additionally, the company installed a new energy-efficient oven and blast freezer. Since the facility's opening last September, Smart for Life has already seen a significant reduction in its utility bills. The company expects to save approximately 58 percent annually on its energy bills.
The main goal of the RLF program is to encourage smart economic growth among small businesses, such as Smart for Life, by providing incentives for energy-efficient equipment that will reduce operating costs for the companies. Smart for Life chose to open its new, expanded manufacturing facility in Riviera Beach, Florida, a targeted revitalization area in Palm Beach County. In addition to maintaining its current workforce of 40 employees, the company expects to create 25 new full-time jobs as part of its expansion. 
The Palm Beach County Department of Economic Sustainability estimates the Smart for Life project will have an economic impact of $64.7 million over the next five years.