Dear Colleagues,
As we enter the New Year and move forward with our efforts to build a stronger, more secure and prosperous Nation, it's also important to take a moment to reflect on the progress we have made and to acknowledge everyone who made this progress possible.  
Across the complex, our workforce is reducing nuclear dangers, expanding the boundaries of science and innovation, and accelerating the transition to a clean energy future.  And we're working together like never before to seize the technological lead in everything from batteries to biofuels to solar energy.  The work we've done – and will continue to do – is critical to America's security and economic prosperity in the 21st century as well as to the health of our planet.
Over the past three years, we've served the Nation well and delivered results for the American people.  While this list is far from comprehensive, I thought I would share a few of the things we have accomplished together:
Our investments in wind and solar power have put the country on track to double renewable energy generation from 2008 to 2012.  For example, the 1603 grant in lieu of tax credit program has supported more than 20,000 renewable energy projects – enough to power more than three million homes.
We've partnered with utilities, local communities, and other federal agencies to accelerate America's transition to a stronger, smarter, more robust power grid – including more than 30 smart grid and energy storage demonstration projects nationwide and an aggressive, inter-agency effort to accelerate the permitting and construction of seven proposed electric transmission lines.
We've brought significant new resources and innovative new approaches to the Department's research and development mission.  Not only are we breaking down stovepipes between our existing basic and applied science teams, we've also launched new research models like the Energy Frontier Research Centers (EFRCs), the Energy Innovation Hubs, and ARPA-E.  The early results are something we can all be excited about:
ARPA-E, which began as a start-up operation in 2009, has now backed more than 180 outside the box, high-risk/high-reward projects that hold the potential to fundamentally change the way the world uses and produces energy.  These companies and research teams are working toward a battery that can take a mass-marketed car 300 miles on a single charge, bacteria that use carbon and electricity to make fuel for cars, grid scale electricity storage and other potentially game-changing breakthroughs.  Eleven of the projects funded by ARPA-E in 2009 have gone on to do such promising work that they have now received more than $200 million in combined private sector funding. 
Also launched in 2009, EFRCs are reporting multiple breakthroughs in areas ranging from advanced battery technology and solar energy to solid-state lighting and nuclear power.  EFRCs have published more than 1,000 peer-reviewed papers and filed more than 40 patent applications and nearly 50 additional patent/invention disclosures.
The Energy Innovation Hubs continue to make progress.  For example, the Modeling and Simulation for Nuclear Reactors hub has developed its first edition of innovative software to simulate a virtual nuclear reactor that could help nuclear engineers improve the safety and performance of nuclear reactors.  Congress recently provided funding to create two additional hubs in the areas of critical materials and batteries and energy storage.
The Office of Science and its national laboratories have supported ground-breaking research in areas ranging from disease to rare earth materials to next-generation biofuels, including major breakthroughs by the Bioenergy Research Centers that could help lower the cost of advanced biofuels production.  Continuing our tradition of providing state-of-the-art research tools, three national labs are now connected with an ultra-high speed network that is 10 times faster than commercial internet providers.
The "America's Next Top Energy Innovator" challenge enabled 36 start-up companies to sign option agreements to license promising technologies developed at our national labs under a streamlined process for a reduced upfront cost of just $1,000.
In specific technology areas, from solar to batteries to biofuels to the integration of renewable energy and fossil energy on the electric grid, we are looking across ARPA-E, the Office of Science, and our applied technology programs to determine where we can add the most value to accelerate the pace of innovation, including the development of new business models.
Through old and new fellowship programs, we have attracted top-notch talent to work at the Department and lead our efforts into the future.
Through our loan programs, we're supporting nearly 40 clean energy projects that are expected to employ more than 60,000 Americans, generate enough clean electricity to power nearly three million homes and displace more than 300 million gallons of gasoline annually.
We reconstituted the Secretary of Energy Advisory Board.  Several subcommittees have been formed, including a distinguished panel of experts to deliver a blueprint on how America can safely harness our vast shale gas resources while protecting our land and waters.  We continue to advance research aimed at promoting the safe and responsible development of America's fossil energy resources.
To support America's nuclear industry, we have provided a conditional loan guarantee for the Nation's first new nuclear reactors in the three decades, promoted cutting-edge research and development and established a Blue Ribbon Commission on America's Nuclear Future to find a sustainable approach to assuring safe, secure long-term disposal of used nuclear fuel and nuclear waste.  The committee's recommendations are expected to be finalized by the end of January 2012.
Department of Energy teams, including scientists from our national laboratories, played a crucial role in the U.S. government response to the BP oil spill as well as the Fukushima tragedy, demonstrating the unique value of the Department's scientific capabilities. 
We weatherized more than 750,000 homes and finalized new efficiency standards for more than 30 household and commercial products, which will save Americans an estimated total of $300 billion through 2030.
We released a Strategic Plan to guide our mission of ensuring America's security and prosperity by addressing its energy, environmental, and nuclear challenges through transformative science and technology solutions.  We also released our first Quadrennial Technology Review to provide a context and framework for our energy technology programs, as well as principles by which to establish program plans with a five-year horizon.
We worked with our partners in Russia to secure each one of its 383 border crossing points with sophisticated radiation detection technology designed to help prevent the illicit smuggling of materials that terrorists or rogue nations could use to construct a nuclear weapon or a dirty bomb.  At the same time, we removed more than 4,600 kilograms of vulnerable nuclear materials from sites around the world.  That's 440 nuclear warheads worth of material.  We've also facilitated the down-blending of more than 103,000 kilograms of highly enriched uranium – enough material for approximately 4,120 nuclear weapons – to low enriched uranium.
In October, NNSA dismantled the last B53 nuclear bomb, the oldest weapon in America's nuclear arsenal and one of the largest in U.S. history.  The B53 dismantlement program was safely completed 12 months ahead of schedule.
Through the Environmental Management program, we have permanently cleaned up 613 square miles of land from Cold War-era contamination – an area more than 26 times the size of Manhattan Island – and safely completed the cleanup of 19 transuranic waste sites across the Nation
We have a great deal more to do and remain committed to reducing the amount of work that one employee aptly described to me as "mind-numbing and soul-sucking."  This type of work frustrates us all and gets in the way of progress.  For example, we have:
Decreased bottlenecks in our hiring process, reducing the average time to hire from 175 calendar days in 2009 to 100 days in 2011.  We plan to go even further with the goal of reducing the time to hire to 80 days.
Adopted a suggestion from employees to save money on travel by allowing the purchase of non-refundable tickets for trips within the 48 contiguous states.
Taken steps to reduce the overall size of the Department's vehicle fleet by 35 percent over the next three years.
Overhauled and re-launched our website, Energy.Gov, to better communicate with the public.  Just recently, GovLoop named the new Energy.gov the top Federal website of 2011.  The Department's website reform efforts are expected to save more than $10 million annually.  We also started Powerpedia, a Department of Energy wiki-like site, that facilitates information sharing among employees
I am incredibly honored by your service.  Your efforts make the country stronger, safer, and more prosperous.  The men and women of this Department are not only helping change the world, you're helping to save it.  
Let us continue our work in the New Year with a fierce sense of urgency.

Sincerely,

Steven Chu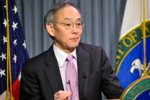 Dr. Steven Chu
As United States Secretary of Energy, Dr. Steven Chu was charged with helping implement President Obama's ambitious agenda to invest in clean energy, reduce our dependence on foreign oil, address the global climate crisis, and create millions of new jobs.As United States Secretary of Energy, Dr. Steven Chu was charged with helping implement President Obama's ambitious agenda to invest in clean energy, reduce our dependence on foreign oil, address the global climate crisis, and create millions of new jobs.
more by this author