You are here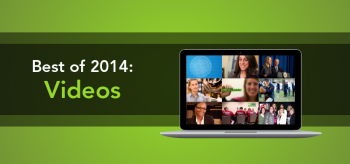 Big things happened this year at the Energy Department and we were on the ground to record and bring many of those moments to you. We swore-in our new Deputy Secretary Dr. Elizabeth Sherwood-Randall, we kicked off our #WomenInSTEM video series, and we met the next generation of leaders in science.
2014 was also a momentous year for advances in technology. Stay ahead of the curve and watch these videos on 3D printing, wide bandgap semiconductors and creating a star on earth through fusion energy.
You can also catch up on all the action by following Energy's Instagram account, including this video of Secretary Moniz practicing to throw out the first pitch at a special Red Sox game on Earth Day -- a chance to highlight the Energy Department's work to fight climate change.
You can view these and other videos in our Best of 2014 video playlist. And make sure you're subscribed to the Energy Youtube channel -- you won't want to miss all of the exciting things to come in the new year.
If you can't get enough of our videos, check out the Best Energy Videos of 2013.
Welcoming Deputy Secretary Liz Sherwood-Randall
Dr. Elizabeth Sherwood-Randall was sworn in as Deputy Secretary of Energy on October 10, 2014. Vice President Biden stopped by to deliver remarks at the event.
Women in STEM -- Why We Need All Hands on Deck
Carter Wall developed an interest in science at an early age, yet struggled to find examples of women scientists and engineers beyond historical figures, like Marie Curie. This didn't stop Carter from pursuing an undergraduate education and career rooted in STEM -- shorthand for science, technology, engineering and mathematics fields. Now she's inspiring others to get involved.
Wide Bandgap Semiconductors
Hidden inside nearly every modern electronic is a technology -- called power electronics -- that is quietly making our world run. Power electronics that use wide bandgap semiconductors (WBG) will perform better, be more efficient and cost less.
A Star on Earth
At the Energy Department's Princeton Plasma Physics Lab, scientists are trying to accomplish what was once considered the realm of science fiction: create a star on Earth.
3D Printing in 30 Seconds
Three years ago, printing three-dimensional objects at home might have sounded like a thing out of The Jetsons. But in just a few short years, 3D printing has exploded -- shifting from a niche technology to a game-changing innovation that is capturing the imagination of major manufacturers and hobbyists alike.
#WomenInSTEM: Making a Cleaner Future
Mallory uses geographic information systems or GIS -- a mapping software that she compares to "a real-life videogame" -- to assess how various constraints, such as wetlands or an airport, may interact with potential renewable energy projects. Her aim is to site and design projects that can effectively co-exist with the surrounding environment.