You are here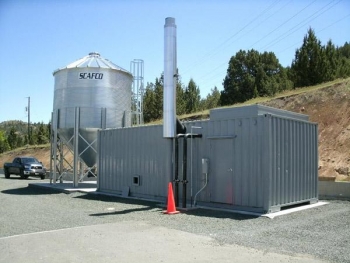 Using money from the Recovery Act, Blue Mountain Hospital replaced one of its 1950s crude oil boilers with a wood-pellet boiler -- saving the hospital about $100,000 a year in heating costs. | Photo courtesy of the Oregon Department of Energy.
With help from the Energy Department's State Energy Program, an Oregon hospital is saving approximately $100,000 a year after replacing its old, 1950's-era boilers with a new, energy-efficient biomass system.
Blue Mountain District Hospital, in John Day, Oregon, was using two crude oil-fired boilers and one heating oil boiler to provide heat and hot water to its 50,000-square-foot facility. Using money from the Recovery Act, the hospital replaced one of the crude oil boilers with a wood-pellet boiler, finishing the project in the summer of 2011. The second crude oil boiler was converted to burn regular heating oil -- leaving the hospital with two regular heating oil boilers and one wood-pellet boiler -- thus fulfilling the federal and state requirement to have two types of heating available at any time. The payback period for this project is expected to be five years or less.
In addition to cutting the hospital's heating bills by two thirds, the environment and local economy are benefiting from the upgrade. A3 Energy Partners, a Portland-based company, along with R&W Engineering, a northwest firm with three offices, was called in for the planning and design of the new wood-fuel heating system. The wood pellets for the new boiler system are sourced from the Malheur Lumber Company, the local sawmill, which acquires the pellets through forest thinning, a selective tree removal process that improves the health of the remaining trees. As interest in biomass has grown, the company has added 13 jobs.
This is a great example of Recovery Act funds resulting in multiple benefits. The Oregon Department of Energy, which administers Recovery Act funds for the state, hopes to continue converting thermal energy resources throughout the state to renewable resources.