You are here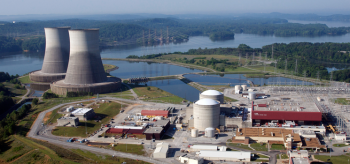 The Office of Nuclear Energy's mission is to advance nuclear power as a resource that can meet the United State's energy, environmental and national security needs.
The Office of Nuclear Energy (NE) is pleased to introduce our new, updated public website: energy.gov/ne.
The new site was designed to help facilitate users' access to NE documents, reports and program descriptions, with an emphasis on up-to-date, easily accessible information. The new homepage features our activities and initiatives, as well as links to most recent publications and press releases. The rest of the NE site is structured to match our organization -- and enable easier navigation and more direct access to information about our programs.
NE's primary mission is to advance nuclear power as a resource capable of meeting the Nation's energy, environmental, and national security needs by resolving technical, cost, safety, proliferation resistance, and security barriers through research, development, and demonstration as appropriate.
The program is guided by four research objectives:
1) Develop technologies and other solutions that can improve the reliability, sustain the safety, and extend the life of current reactors.
2) Develop improvements in the affordability of new reactors to enable nuclear energy to help meet the Administration's energy security and climate change goals.
3) Develop sustainable fuel cycles.
4) Understand and minimize the risks of nuclear proliferation and terrorism.
So far, the Department has transitioned many of its small staff offices to the Energy.gov platform, a move that has already saved DOE about $1.5 million. Meanwhile, site traffic has increased more than threefold. When complete, the overall website transition will help reduce and avoid costs, saving the Department $10 million annually, and improve the Department's communications infrastructure.
We're excited to join Energy.gov and hope you enjoy the new look and feel of our site. Visit us at the new Nuclear Energy website, and check back for more updates as we move forward.