You are here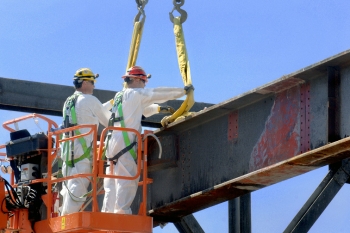 Safety inspections are a key element in a nuclear cleanup environment with large pieces of cleanup equipment. Inspections are essential to continuing safety success and reaching new milestones.| Photo courtesy of Oak Ridge
Workers at URS | CH2M Oak Ridge (UCOR), the prime contractor for EM's Oak Ridge cleanup, are approaching a milestone of 4 million safe work hours without a lost time away incident.
"In our line of work, safety accomplishments are never randomly achieved," said Mark Whitney, Oak Ridge's EM manager. "Reaching 4 million safe hours requires uniform commitment by employees and continual emphasis by leadership and onsite managers to perform every task, large and small, thoroughly and safely."
Safety inspections are a key element in a nuclear cleanup environment with large pieces of cleanup equipment. Inspections are essential to continuing safety success and reaching new milestones.
Committed, focused employees in the field make these accomplishments possible. Mike Tidwell, an Oak Ridge equipment inspector, validates supplies and equipment used at cleanup sites in theEast Tennessee Technology Park and Oak Ridge National Laboratory. Tidwell inspects items such as High-Efficiency Particulate Air filters.
Tidwell and other contractors ensure worker safety by tracking and inspecting 170 pieces of mobile equipment subject to Occupational Safety and Health Administration and American National Standards Institute requirements. Each year, these contractors inspect 856 pieces of hoisting and rigging equipment and fall protection equipment. They review several hundred compressed gas cylinders, personal protective equipment, safety harnesses, lifts and liners. Cranes, forklifts, and portable eyewash stations are also inspected.
Because inspections are required before equipment is used, they can impact project schedules considerably. Employees complete the inspections timely and thoroughly, even when challenged by the average 17 delivery trucks that arrive daily at UCOR's receiving station. Their efforts ensure projects are on schedule and onsite workers have the safest equipment to complete their tasks.