You are here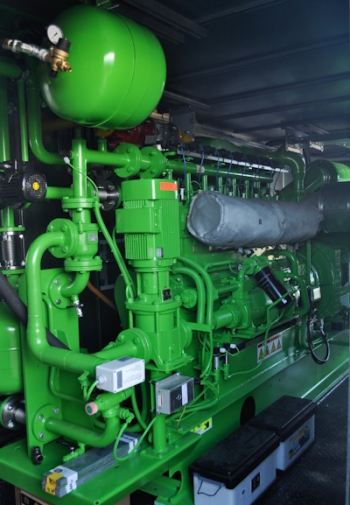 Betin Incorporated's generator converts gas from the plant's anaerobic digester into electricity. | Courtesy of Montchevré.
In support of the Obama Administration's goals for quality, American-made clean energy products, the Energy Department's State Energy Program continues to invest in the small businesses that make up the backbone of our economy. Much of this support comes in the form of low-interest loans and tax credits to American manufacturers for the production of advanced batteries, solar panels, wind turbines and…in one Wisconsin company's case, cheese.  
With investments from the Recovery Act, Betin Incorporated (the producer of Montchevre-brand goat milk cheese) recently installed a digester that transforms industrial waste into electricity. The process is known as an "energy recovery system," and uses an anaerobic digester to break down organic materials created by the cheese manufacturing process with the use of microorganisms. The biogas generated by this process is then turned into electricity.
This energy recovery system creates enough energy to run the digester as well as almost 80 percent of the company's energy needs – and allows the company to sell excess electricity back to the grid. And perhaps most importantly, this project has resulted in new jobs for the Belmont, WI community.
Thanks to investments from the State Energy Program, company president Arnaud Solandt says Betin Incorporated "plans to expand and create new jobs within the community." During the Governor's announcement of the project, he expressed his gratitude to the government of Wisconsin: "We are grateful to operate in a state where the Governor and Department of Commerce recognize the need to encourage and support private projects like ours that build environmentally-sound solutions to manufacturing."
And as one of thousands of small business across the U.S., this is just one project supporting American manufacturing of clean energy products. To date, investments by the State Energy Program have supported the retooling of 12 manufacturing facilities for clean, renewable energy products in Wisconsin alone.