You are here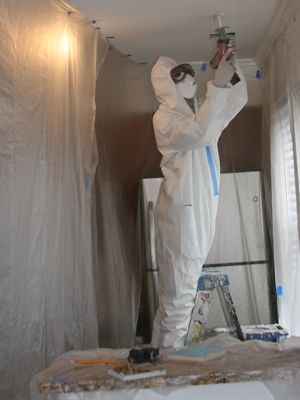 Kristan Castro weatherizes a northern Virginia home. | Photo courtesy EDGE Energy
It didn't take long for Kristan Castro to be convinced of the benefits of performing energy audits on homes and weatherizing them to improve their energy efficiency. He's been in the remodeling business for about 13 years, but it wasn't until this year that he decided to join a team that is saving Americans money and ultimately helping the environment in the D.C.-metro area.
While the company Kristan works for, EDGE Energy in McLean, Va., mostly does efficiency upgrades for middle- and upper-class Americans, but it has also recently completed the weatherization of about 40 low-income homes in Maryland for the Department of Housing and Community Development thanks to the Recovery Act. The company will also become qualified to weatherize homes in Virginia this year.
EDGE Energy hired Kristan earlier this year as a crew manager, performing energy services and insulation work. The addition of weatherization work for community agencies, combined with an increase in energy efficiency tax credits, has allowed EDGE Energy to go from four trucks to eight and hire about three additional crews like the one Kristan manages.
The stimulus tax credits and a raised awareness about energy efficiency have helped make weatherization an easy sell to clients, says Jason Dispenza, quality assurance designee and office manager for EDGE Energy. Once an energy audit is performed, the incentives become appealing to his clients.
Kristan saw the benefits, too, and now he's excited about his work in green remodeling. "Jason trained me in energy services," Kristan says. "You know what? I liked it! I think it's interesting, and it makes sense to me. So here we are doing business."
Business has picked up and kept the company very busy, and Kristan feels good that he and his coworkers help people through long-term money savings.
"A renewed focus on retrofitting is very necessary," Kristan says. "I've seen homes that are badly insulated before and were not even appropriate to live in, so I think it's good the government is paying attention."
Clients send the company e-mails saying they can tell the difference in their energy bills and in the comfort level inside their homes. Kristan ran into one such client a couple weeks after finishing a job, he says, and the client told him how noticeable the differences in heating and cooling requirements for the home were.
"I think everybody's happy with the improvements we make in their houses," Kristan says, "We're doing important work."
American taxpayers can benefit from the Residential Energy Property Credit (Section 1121) that increases the energy tax credit for homeowners' energy-efficiency improvements to their existing homes. The new law under the Recovery Act increases the tax credit to 30 percent of the cost of qualifying improvements, up to $1,500. The credit runs through 2010. Visit www.energysavers.gov/financial for more information.
More information is available at http://www.edge-gogreen.com.