You are here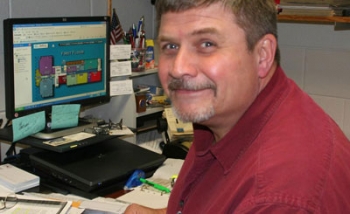 Glenn Sims, director of Facility Services at Richmond Community College | Photo courtesy of Richmond Community College
The stimulus is saving North Carolina's taxpayers some money while helping Richmond Community College, in Hamlet, become more energy-efficient.
RCC was awarded a $157,000 Energy Efficiency and Conservation Block Grant from the Department of Energy through the Recovery Act. The grant will help the college improve the efficiency of systems that use energy as well as give them the ability to remotely monitor energy use and adjust thermostats, acts that are expected to save about $21,000 annually.
"Right now, a building's heating and cooling systems are totally on or totally off," Glenn Sims, director of Facility Services, says. "These new upgrades will allow me to control each unit individually, like when we're off for breaks, I'll be able to turn off 23 of the 24 units in a building and just run the one needed for the office that's being used."
By using the new systems, RCC estimates it will cut energy use by as much as 18 percent, which is great news considering the school's annual energy costs have hovered around $230,000 annually. That money comes from county taxes. RCC Facility Services' employees will use software to reduce the climate control for classrooms after classes and on weekends, and the process yields additional savings because less troubleshooting has to occur manually.
"Technicians can use the software to monitor and correct problem areas if one area of a building has a hot or cold spot, all without having to use manpower to walk to every building," Glenn says. "I'm excited because it's going to give us more flexibility in how we heat and cool our buildings."
Another reason Glenn's excited is because the college estimates the upgrades will pay for themselves after only three years.
"We're showing the community we want to be good stewards of their money and spend it wisely with a high payback," he says. "We're taking a good step in that direction here because it's not even 10 or 15 years — we'll see pretty rapid results."