You are here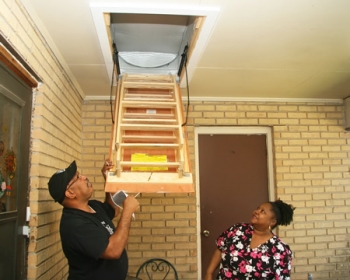 SMILE Weatherization Coordinator Venice Roberts shows client Shelia Sturgis an attic tent, which conserves energy and decreases costs. | Photo by Susannah Malbreau
Change is in the air at SMILE Community Action Agency. The non-profit received a $3 million American Recovery and Reinvestment Act grant for its weatherization program. With the needed boost in funding Louisiana-based SMILE can increase its reach.
SMILE targets five unique parishes, helping locals conserve energy and save money. Venice Roberts, who both coordinates and implements SMILEs weatherization program says there's been a surge in interest and applications, "Everything has changed tremendously. There's been an abundance of people calling about weatherization."
SMILE plans to use part of the funding to increase their local outreach. Venice says more frequent town hall forums will help SMILE promote the benefits of weatherization. By increasing awareness SMILE hopes to make experiences like that of client Sheila Sturgis a reality for more residents.

Sheila is one of many local residents who've participated in SMILE's weatherization program. Her home in Scott has been upgraded with insulation, caulking, solar screens on the windows, and low-flow faucets.
"It was a very good experience, they did a good job and were professional" says Sheila of the weatherization work done on her home. Sheila says after the upgrades her energy bill has decreased by 20 percent, "It's really saving us a lot of money." She adds "I would recommend it to others and yes I have passed it along."