You are here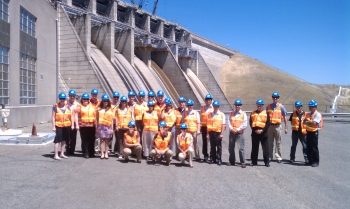 Hydro Research Foundation Fellows. | Image courtesy of the Hydro Research Foundation Fellowship Program.
As the nation continues to rely on hydropower to help meet its energy needs, a new generation of engineers and scientists is finding ways to make hydropower technologies more efficient, environmentally friendly and cost effective. The Energy Department's Office of Energy Efficiency and Renewable Energy (EERE), in cooperation with the Hydro Research Foundation,  supports these young leaders through the Hydro Research Foundation Fellowship Program.
The fellowship program  is currently providing up to two years of financial assistance to 23 graduate students, enabling the fellows to research hydropower technology topics including hydroelectric turbine efficiency improvements and environmental mitigation techniques.
 "The Fellowship Program is key to providing new leaders, with fresh ideas, to the hydropower industry -- which is expected to lose up to 40% of its workers to retirement in the next five years," says Deborah Linke, Hydro Research Foundation Program Director. Each of the fellows is also paired with a mentor to gain real-world knowledge of the hydropower industry.
The selection process is rigorous; each of the 23 fellows is already making important contributions to advance the nation's clean energy economy. Here are three of them:
Lisa Dilley, a doctoral candidate at Washington State University, is developing an optimization model for using pumped storage hydropower as a multi-purpose water resource. Dilley will demonstrate the regional economic potential for the optimization model's development using the Columbia River as a case study.
Garrett Monson, a master's degree candidate at University of Minnesota, is developing structures to help aerate the waters around weirs and dams. Increased aeration leads to higher levels of dissolved oxygen and a healthier water stream.
Sue Nee Tan, a doctoral candidate at Cornell University, is putting together a portfolio of systems analysis methods to examine how to use hydropower resources to complement the increasing amount of electricity coming onto the grid from variable renewable energy sources like wind and solar.
Visit the Hydro Research Foundation's website for a complete list of fellows and their work.  
Since the 1880s, hydropower has been a major source of renewable and reliable energy for the United States. In 2010, hydropower accounted for 6% of total U.S. electricity generation and 60% of generation from renewables. For more information on how the Office of Energy Efficiency and Renewable Energy works to accelerate the development and deployment of hydropower technologies, visit the Wind and Water Power Program website.