You are here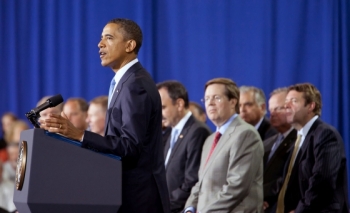 President Barack Obama delivers remarks on fuel efficiency standards for 2017-2025 model year cars and light-duty trucks during an event at the Washington Convention Center in Washington, D.C., July 29, 2011. Seated behind the President are at left are auto industry executives and Transportation Secretary Ray LaHood. (Official White House Photo by Samantha Appleton)
President Obama announced a landmark agreement with automakers today that sets aggressive new fuel-economy standards for cars and light-duty trucks in model years 2017 to 2025. His announcement highlights the work the Department of Energy does every day to promote the innovation required to meet that goal while creating jobs and making America more competitive in the process.
For example, the President highlighted some of the job creating advances in vehicle battery technologies that were made possible by the Department's investments. As the President said, "…There's a company called Celgard in North Carolina that's expanding its production line to meet demand for advanced batteries. And they've hired 200 employees and they're adding 250 more. There's A123, a clean-energy manufacturer in Michigan that just hired its 1,000th worker as demand has soared for its vehicle components. Companies like these are taking root and putting people to work in every corner of the country."
Below are a few more examples of how the Energy Department is unleashing innovation that will create jobs and make sure that the fuel-efficient vehicles of the future are made in America.
We're investing in groundbreaking research to make today's traditional engines smaller, lighter and more efficient and tomorrow's technology more robust. The end result will be cars that drive further, weigh less and consume much less fuel.
We've supported Ford Motors with a loan to transform factories in Illinois, Kentucky, Michigan, Missouri, and Ohio that allows them to produce more fuel efficient models. These facilities will increase the efficiency of light vehicles by using technologies that improve internal combustion engines and transmissions, reduce vehicle weight, and reduce vehicle drag with more aerodynamic designs. This investment will enable Ford to raise the fuel efficiency of more than a dozen popular models, adding up to nearly two million new vehicles every year. It will also save more than 200 million gallons of gas annually.
Sandia National Labs helped Indiana-based Cummins develop a diesel engine design using innovative computer modeling. This method reduced the time and cost of the engine's development while yielding higher fuel efficiency and cleaner combustion. The 6.7 liter engine is currently being used in more than 200,000 Dodge Ram pickup trucks.
With our support, Delphi, which is based in Indiana, is manufacturing the next generation of inverters, converters, energy storage systems that are critical components for tomorrow's advanced vehicles. Over the past two years, Delphi has added nearly 160 direct jobs, and has plans to add another 30 in the future.
We're leading the effort to accelerate the development of lighter weight passenger vehicles using advanced materials such as carbon fiber and magnesium. The goal is to achieve a 50% reduction in vehicle body weight, which will drastically improve a vehicle's fuel economy.
We're supporting General Motors as they research ways to use waste heat from automobile engines to increase fuel efficiency, an innovation that could potentially increase fuel efficiency by up to 10 percent and reduce fuel consumption by up to 380 million barrels every year.
With our help, innovative battery companies are advancing technology that will allow the United States to produce enough batteries and components to support 500,000 plug-in and hybrid vehicles, while creating jobs and expanding the supply chain.
We're developing an advanced battery that could go 300 miles on one charge at one-third the cost.
Our support not only allowed Johnson Controls to manufacture more advanced battery packs, it also contributed to the company's decision to construct a new plant in Holland, Michigan rather than oversees, bringing an estimated 800 new jobs to the U.S.
With these investments, the Department is helping to make American industries more competitive, create the jobs of tomorrow right here at home, and promote groundbreaking science and technology.