You are here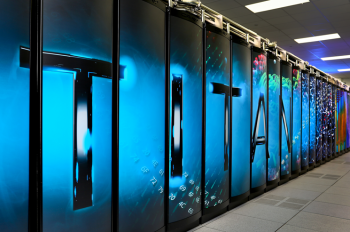 Oak Ridge National Laboratory is home to Titan, the world's most powerful supercomputer for open science with a theoretical peak performance exceeding 20 petaflops (quadrillion calculations per second). That kind of computational capability—almost unimaginable—is on par with each of the world's 7 billion people being able to carry out 3 million calculations per second.
This morning the "TOP500" list of the world's fastest supercomputers named Titan, a new supercomputer located at the Energy Department's Oak Ridge National Laboratory in Oak Ridge, Tennessee, the most powerful in the world.
Ten times more powerful than its predecessor, the Jaguar system, Titan will provide unprecedented computing power to accelerate scientific discoveries using technologies first developed for video game systems like Xbox 360 and PlayStation 3.
Scientists will use Titan's computing power for a wide range of research, including developing the next generation of materials used to manufacture U.S. goods; for nuclear research to model the behavior of neutrons in a nuclear power reactor; to model the combustion of fuels in an internal combustion engine to improve engines for cars and trucks; and to simulate the atmosphere at new levels to help researchers better understand future air quality.
Titan uses a combination of traditional central processing units (CPUs) and a family of processors called graphic processing units (GPUs) that were first created for computer gaming and have a unique capacity to perform the same operation simultaneously on multiple pieces of data.
In video games, this capacity enables them to update the pixels on a display to make the imaging more realistic. For Titan, the combination of CPUs and GPUs help the system perform parallel processing operations at blinding speeds.  Titan reached a speed of 17.59 petaflops (quadrillion calculations per second) on the Linpack benchmark test – the specific application that is used to rank supercomputers on the TOP500 list.  Titan is capable of a theoretical peak speed of 27 petaflops. Additionally, because the CPU-GPU combination provides more processing per watt of power, Titan occupies the same space as Jaguar while using only marginally more electricity.
The Department now operates five supercomputers out of the fastest 20 in the world, with Sequoia at Lawrence Livermore National Laboratory in Livermore, California, in second place; and, Mira at Argonne National Laboratory in Argonne, Illinois, in fourth place. Cielo, located in Los Alamos, New Mexico and operated jointly by Los Alamos and Sandia National Laboratories, and Hopper at Lawrence Berkeley National Laboratory in Berkeley, California, also appeared in the top 20.
Earlier this fall, 61 science and engineering projects were selected for access to 1.84 billion core processing hours on Titan and 2.83 billion hours on Argonne's Intrepid and Mira computers through the Department's Innovative & Novel Computational Impact on Theory and Experiment (INCITE) program. INCITE grants scientists and engineers at universities, national laboratories, industry and other research organizations access to lightning-fast high-performance computing systems not commonly available in academia or the private sector. Here is a complete list of the 61 projects.