You are here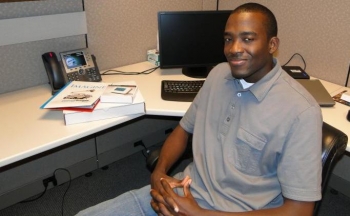 Brian Andrews is a former meter reader who now works with smart meter and intelligent grid projects. | Image courtesy of CenterPoint Energy.
"With smart grid technology ever-changing, there are new smart grid opportunities, new technologies to get trained on," said Brian Andrews, who has been working at CenterPoint Energy in Houston, Texas for three years. He started as a meter reader, and through a CenterPoint Energy-offered training program, transitioned to his current job implementing the company's smart meter and intelligent electric grid projects in 2010.
Observing the changing field, he thought there would be less demand for meter readers as new smart meter technology came into wider use and was interested in learning about opportunities to work with the new technology. The company offers online training courses through its Human Resources "CenterPoint University," where employees can learn and develop new skills.
Right now, he's working with the company's deployment of smart meters to more than 2 million consumers and in-home display energy monitor pilot program (see photos of Energy Department Deputy Secretary Daniel Poneman testing out the new devices), which is partially funded by the Recovery Act helping to modernize our electric grid for the 21st century. The most enjoyable part of his job is putting this new technology in customers' hands to help them manage their energy use.
"With the smart meter communicating to the in-home display, customers can make smarter decisions about their energy consumption and potenially save a couple dollars for something else they need," said Andrews. "Consumers that use the technology are amazed by how much energy is consumed just by using a hair dryer or seeing your air conditioner cycle on or off."
An opportunity for a lasting career is just what Andrews was looking for when he applied for his job at CenterPoint Energy in 2008 after studying computer networking in college.  He's testing and working with the newest technology that will help Americans better understand their energy habits and manage their energy use. As new technology is developed, Andrews knows that there are going to be more opportunities for training and mobility.
"If you're driven and you watch for the right opportunity, you can take charge of your future," Andrews said.
Find out more about the diverse range of opportunities in the smart grid workforce and check out Smartgrid.gov to learn more about modernizing our electric grid for the 21st century.
Learn more about the results of the CenterPoint Energy pilot project here.