You are here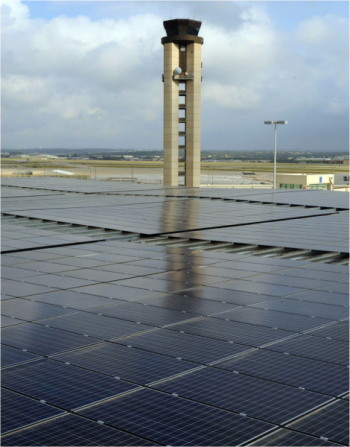 The new photovoltaic system at the San Antonio International Airport.
In early 2010, the City of San Antonio's Energy Efficiency and Conservation Block Grant (EECBG) program staff quickly realized a golden opportunity lay right at their fingertips. The opening of the new San Antonio International Airport terminal was just months away and the team knew that a solar photovoltaic (PV) system at the airport would offer a highly visible location to showcase renewable energy technologies, help the city accelerate its "Mission Verde" sustainable development plan and create local jobs. In a remarkable achievement in project coordination and execution, city staff awarded the contract, designed and built the project, and complied with all local and federal regulations in less than seven months.
Once the $1.5 million contract was awarded, the general contractor and city staff determined the best location for the PV system was the roof of the recently completed airport long-term parking structure. This gave the city the chance to showcase the PV system and take advantage of the structural and electrical infrastructure already in place. Moreover, the project team integrated electric vehicle charging stations with the PV system and the garage's electrical system to increase the uses for the electricity generated from the PV system.
The end result: EECBG funds were used to provide 235 KW of power to the garage operations, save the airport more than $20,000 per year in utility expenses, generate 13 local jobs and reduce greenhouse gas emissions by over 330 tons (equal to removing 60 passenger vehicles from the road each year). Additionally, the electric vehicle recharging stations at the airport dovetails with the city's Transportation Initiative EECBG project that is converting city owned vehicles into electric vehicles.
It took a cross-cutting approach to ensure the success of this project. Support of the mayor's office and local departments made it possible to expedite reviews required to release the original Request for Quotation, permit the installation and allow for the construction of this unique PV system.
The San Antonio Airport is an example of how renewable energy projects can be deployed quickly when local government institutions work together towards a shared goal that has broad community support.
Todd Allen is a Project Officer at the Golden Field Office.