You are here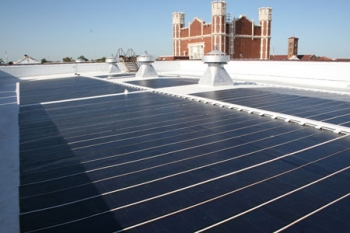 View of the solar panel system atop Warren Easton Senior High School in New Orleans. | Photo courtesy of Entergy Corp
A high school rooftop once used as a refuge for Hurricane Katrina victims and a military staging area is now home to the largest solar panel system in New Orleans.
Thanks to combined efforts from the local utility company, the city, and the U.S. Department of Energy's Solar America Cities program, 208 "thin-film" adhesive solar panel strips occupy about 4,000 square feet of space on Warren Easton Senior High School's roof. Acting as both a renewable energy source and an interactive learning tool, the installations are expected to generate approximately 37,000 kilowatt-hours of solar-powered electricity every year and allow students to monitor its output and the school's energy consumption in real-time.
"The negativity of that particular facility and the positivity of the solar installations are in direct contrast," says energy and environmental policy analyst John Moore, a New Orleans native who returned to the city after Katrina to work on green projects for the Office of Recovery Management. This solar project is especially important, symbolizing a new — and greener —beginning for schools in New Orleans, John says.
Warren Easton, which is located in the hurricane-ravaged 3rd District of Orleans Parish, is the first of four schools to receive solar panel systems as part of the New Orleans Solar Schools Initiative. Installation at Joseph A. Craig Elementary in Treme, which re-opened in January after massive renovations, is currently underway and should be completed by late March. Two more elementary schools are next on the list: William Frantz Elementary in the Upper 9th Ward and Henry Allen Elementary in Uptown.
The systems, which cost from $250,000 to $500,000 to install, are being put in by the local firm South Coast Solar. The panels were manufactured by Uni-Solar, a Michigan-based company that produces durable, thin-film photovoltaic laminates.
Supported by nearly $2 million in funding from the Entergy Corporation and Nike, and managed by the Louisiana Chapter of the United States Green Building Council, the projects supply power and help students learn about solar energy. Linked software in the classrooms let students monitor how much energy has been generated and consumed by the school.
A visit to the Web site revealed that the panels have already generated about 12,000 kwh, which is enough to power a typical residential home for one year, and prevented over 14,000 pounds of greenhouse gases from being emitted into the atmosphere.
The renewable energy projects don't stop there for John, though. He hopes the five new libraries set for construction throughout New Orleans will be equipped with solar panel systems and "solar-learning kiosks," which would allow people to track energy output.
He says the libraries, which are funded in part by federal stimulus dollars from the Energy Efficiency and Conservation Block Grant program totaling $1.3 million, will include motion sensor lights, upgraded heated and cooling systems, and insulation for better energy efficiency.
"We are looking to step our game up with the green buildings [in New Orleans]," John says. "We want to have a more meaningful impact in the community."

Monitor the solar panels at Warren Easton high school in New Orleans by visiting http://siteapp.fatspaniel.net/siteapp/simpleView.jsf?eid=367116