You are here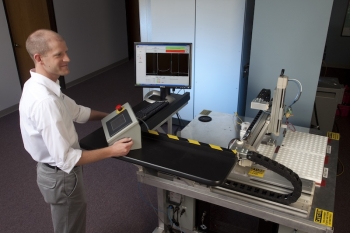 Application Engineer Eric Biedermann of Vibrant supervises an automated nondestructive testing system. | Photo courtesy of Sandia National Lab.
Are you a small business in New Mexico that needs technical assistance from local researchers and scientists? If so, we've got just the program for you.
The New Mexico Small Business Association (NMSBA) Program is looking for groups of companies facing common challenges that could use technical assistance from researchers at Sandia and Los Alamos national laboratories. NMSBA is soliciting proposals for 2013 leveraged projects, in which two or more small businesses request assistance as a group.
The program -- a partnership of the two federal laboratories and the state of New Mexico -- connects scientists, engineers, and others with New Mexico small businesses, at no cost to the business, to solve critical challenges and promote economic development. Once a year, the NMSBA program accepts group projects, but you better hurry -- applications are due on June 8.
The partnership is part of the Energy Department's investments in innovation and technology. It's helping to create new jobs, build new industries, and help New Mexico businesses stay competitive. Since its inception, NMSBA has helped create and retain nearly 2,320 New Mexico jobs at an average salary of about $38,000, increase small companies' revenues by $107.6 million, and decrease their operating costs by $63.6 million.