You are here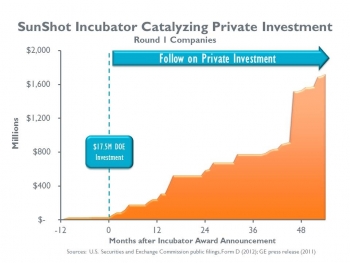 The SunShot Incubator program invested $17.5 million in seven companies in its first round of funding -- and those companies have gone on to attract more than $1.6 billion of private financing as they develop and manufacture innovative solar technologies. | Image source: U.S. Securities and Exchange Commission public filings.
In order to hatch a new idea, solar startups often need a supportive environment to help them take their first steps on the path of introducing novel technologies into the marketplace. Over the past five years, the Energy Department's SunShot Incubator program has invested in nearly 40 small businesses to help them get off the ground.
As shown in the graph above, a $17.5 million investment in the seven companies that made it through the first round of the Incubator program has gone on to attract more than $1.6 billion of private financing as the companies develop and manufacture innovative solar technologies.
The Energy Department announced on February 8 that it will provide $12 million for the next generation of solar-related technologies in the seventh round of the successful SunShot Incubator program. The goal of this funding opportunity is to support solar energy hardware advancements and soft cost reductions, and pilot manufacturing projects.
So far, the Incubator program has produced many great successes. For example, California's Solar Junction -- a developer of high efficiency multi-junction cells for the high concentration photovoltaic (HCPV) market -- developed its cell with support from the Incubator program. It recently publicized an agreement with Semprius, Inc., for a multi-megawatt order. In 2009, North Carolina-based Semprius received a $3 million Incubator award as it developed HCPV modules for use in utility-scale installations. Now the two firms are working together to deliver cell technology contributing to Semprius' world record HCPV module efficiencies.
The latest SunShot Incubator funding will boost similar innovations in the development of hardware and non-hardware approaches from proof-of-concept to prototype. Each of the investment awardees will make cost-share commitments. And each will begin a journey that can help the SunShot Initiative achieve the goal of making solar energy competitive with other forms of energy by the end of the decade.
Visit the Funding Opportunity Exchange website to learn more about application requirements for the SunShot Incubator.