You are here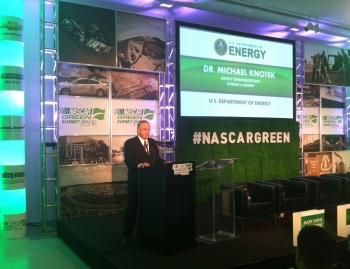 Dr. Michael Knotek, Deputy Undersecretary for Science and Energy at the Energy Department, delivers remarks at the NASCAR Green Summit in Chicago, where the DOE-NASCAR MOU was announced. | Photo courtesy of NASCAR.
Today, the Energy Department (DOE) and the National Association of Stock Car Auto Racing (NASCAR) announced a new partnership to support the accelerated deployment of clean energy technologies that reduce green house gas emissions and create competitive advantages for American businesses.
From the electricity that powers every race-day broadcast to the fuel in the cars themselves, the DOE-NASCAR Memorandum of Understanding (MOU) identifies several transformative energy technologies that will benefit NASCAR and its fans. Those technologies include electric vehicle charging stations, solid-oxide fuel cells, advanced biofuels and emerging natural gas technologies for NASCAR teams' long-haul trucks.  
The Energy Department has a crucial role to play in developing and commercializing groundbreaking clean energy technologies. NASCAR is an early adopter of many of those technologies. This MOU provides a framework to encourage even greater collaboration to commercialize clean energy technologies, and will also facilitate new partnership opportunities, which may include universities, national laboratories and private sector companies, for the purpose of conducting clean energy and auto-related research.
As the President makes clear in his Climate Action Plan, close cooperation between the public and private sectors is crucial to making a clean energy future a reality. By taking action to reduce carbon pollution, we can strengthen our economy, increase our energy security and endow generations to come with a healthier and more prosperous future. And, as a side benefit, we might also make stock car racing the most energy efficient and technologically advanced sport in the world.