You are here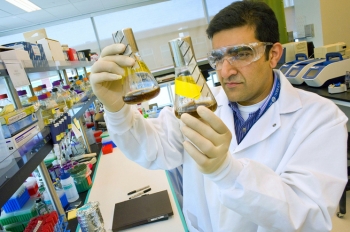 Researchers with the Energy Department's Joint BioEnergy Institute (JBEI) at Lawrence Berkeley National Lab have identified a potential new advanced biofuel that could replace today's standard fuel if successfully commercialized. The new blog TechStream will focus on new technologies coming out of the lab. | Photo courtesy of Lawrence Berkeley National Lab.
What is the next big thing in energy technology? That's the question blogger Jon Weiner and his team at Lawrence Berkeley National Lab will tackle with each post on the lab's new blog TechStream.
TechStream is the place to get the scoop on the latest Berkeley discoveries that could change the world, but not necessarily tomorrow or even the next decade. As Weiner puts it in the first post, Berkeley has a veritable pantry of discoveries that companies can license.
Though, discovery of a process, product or material is the end of the line for the university and the first step of the commercialization process (as shown in this graphic). The next step is for companies or industry partners to license the discovery and move it to the marketplace. TechStream will focus on promising technologies that have not yet been commercialized.
You can go to the lab's tech transfer page to read about Berkeley inventions successfully hitting the shelves. Innovations like the Darfur stove or new solid state lithium-ion batteries have lept over the pitfalls and market barriers in the commercialization process and progressed farther than the TechStream beat.
Browse Energy.gov's commercialization page or the lab's tech transfer page to see what's available today. Keep up with the lab's new blog if you want to keep an eye out for the next big thing.