You are here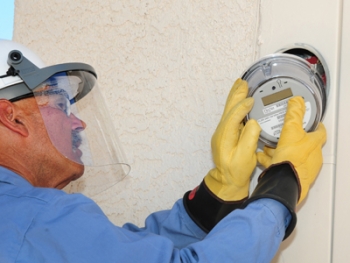 Workers began installing smart meters for NV Energy's smart meter project three weeks ago. The project is expected to create 200 jobs, according to NV Energy. | Photo courtesy of NV Energy
Three weeks ago, Las Vegas-based NV Energy launched the pilot phase of a massive smart grid project aimed at helping residents manage their energy use, saving millions of dollars in operation costs and creating hundreds of jobs along the way.
Through Nevada's NV Energize program, NV Energy will install its first 10,000 smart meters in Nevada homes and businesses by November. Starting in early 2011, these meters will provide two-way communication between NV Energy and residents, enabling the utility to deliver customers data on hour-by-hour energy use.
Once the full program is underway, over a million Nevadans will receive new smart meters.
And to meet the communication needs of customers, the data will eventually be available via text message, on NV Energy's website or by phone.
"NV Energize will empower customers with the ability to manage their energy use in an unprecedented, hands-on manner," says Gary Smith, NV Energy's project director for smart technologies.
Creating jobs, saving on costs
NV Energy estimates the project – which received a $137.9 million Smart Grid Investment Grant through the Recovery Act – will create 200 jobs and save the company $35 million a year in operational costs; savings that are expected to be passed down to customers.
Two-way communication
"We've been incredibly pleased with the response we've had from those customers who have received meters, they seem really excited about the tools that will be available." Buzz is spreading about the program, he notes. "Their neighbors are asking our installation crews when they will get their meter. "
When the project's first phase is complete, NV Energy plans to install another 120,000 smart meters with the ultimate goal of 1.3 million installations by 2012.
After the smart meters become fully functional with two-way communication early next year, customers will have access to daily usage information and can adjust energy behaviors accordingly.
"NV Energize will provide customers with greater information about their energy use, allowing them to make informed choices and potentially save money," Smith says. "It will really help create more awareness of how energy usage impacts the monthly energy bill," he adds.
In addition to potentially lower energy bills, customers can expect other benefits from ASD such as improved service.
"NV Energize will enhance our customer service, allowing us to implement service requests faster, pinpoint outage information and restore power even faster," Smith explains.
"Customers will have more choices in taking control of their energy use through enhanced technology, tools and programs," he says.