America's National Parks have always attracted pioneers in transportation. In the early 1900s, the new transcontinental railroad encouraged people to "See America First," particularly the National Parks. Today, the National Park Service is leading by example. Working in partnership with the Energy Department's Clean Cities National Parks Initiative, National Parks across the country are using alternative fuels and advanced vehicle technologies to reduce air pollution and lower fuel costs.
Building on the success of its existing National Park Service projects, Clean Cities is now partnering with five additional parks to implement specific projects that improve the parks' environment and increase the sustainability of their operations. Most of the projects focus on shifting many of the parks' vehicles to run on alternative fuels, such as propane, biodiesel and electricity -- a transition that will reduce greenhouse gas emissions, improve air quality and minimize fuel costs.
The projects will also educate park visitors on improving the sustainability of their own driving habits to reduce greenhouse gas emissions during park visits and when they return home. For example, parks such as Yellowstone and Grand Teton are educating visitors on the benefits of reducing the amount of time they idle their cars or providing information on how to visit sites in the parks by biking, walking or using park shuttles. If just 25 percent of visitors at the 13 parks in the Clean Cities National Parks Initiative reduce their idling by five minutes, it would save 192,000 gallons of gasoline and more than 2,000 tons of greenhouse gas emissions each year.
The five new National Parks Initiative partners and their projects are:
Denali National Park, Alaska: Denali will replace a gasoline vehicle with a plug-in electric vehicle for use in its "Front Country" -- an area with a number of campgrounds, visitor centers and administration facilities. The park is also working with local students to install an electric vehicle charging station equipped with photovoltaic solar panels.
Mississippi National River and Recreation Area, Minnesota: Mississippi will work with the Twin Cities Clean Cities Coalition to install a network of 12 electric vehicle charging stations for visitor use, with 100 percent of the electricity generated from wind power.
National Mall and Memorial Parks, Washington, D.C.: The National Mall, working with the Greater Washington Region Clean Cities coalition, will deploy two plug-in electric vehicles and four charging stations, two of which will be available to the public. The park will also install idle reduction technology on 20 fleet vehicles to reduce fuel consumption and, through a partnership with the Propane Education and Research Council, deploy seven propane-powered mowers for landscaping.
Rocky Mountain National Park, Colorado: Rocky Mountain, in partnership with the Northern Colorado Clean Cities coalition, will deploy a hybrid electric vehicle and plug-in hybrid electric vehicle, as well as two electric vehicle charging stations. The park will also launch the Rocky Mountain Idle Reduction Project to install idle reduction technology on nine fleet vehicles and incorporate the subject into its outreach and education efforts.
Sleeping Bear Dunes National Lakeshore, Michigan: Sleeping Bear, with Michigan's Clean Energy Coalition (which includes the Ann Arbor and Detroit Clean Cities coalitions), will deploy four plug-in electric vehicles and four charging stations. The park will introduce a program to educate staff and visitors on the benefits of idle reduction, fuel economy and efficient driving habits. The park will also install a tire filling station open to both staff and park visitors to further promote sustainable driving habits.
Together, the National Parks Initiative projects announced today will save the equivalent of nearly 10,000 gallons of gasoline and 71 tons of greenhouse gas emissions per year. The seven million people who visit these parks will have the opportunity to see these vehicles and technologies in action and learn about the benefits of domestic alternative fuels, idle reduction and efficient driving techniques.
The next time you visit a National Park, you can join in the effort to reduce local pollution and greenhouse gas emissions by making smart choices to lower your impact on the park environment. By taking advantage of electric vehicle charging stations or other alternative fuels, walking or biking around the park instead of driving, or just turning off your car's engine when taking in the spectacular views, you too can lead the way in sustainability.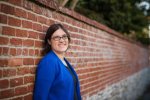 Shannon Brescher Shea
Shannon Brescher Shea (shannon.shea@science.doe.gov) is the social media manager and senior writer/editor in the Office of Science's Office of Communication and Public Affairs.
more by this author