You are here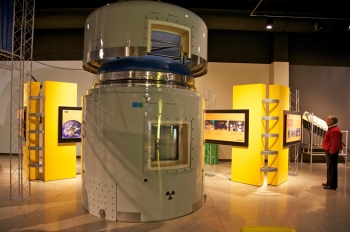 To celebrate the WIPP's 10,000th shipment of defense-related TRU waste, the National Museum of Nuclear Science & History added a new exhibit, which includes one the receptacles, pictured above, used by the Energy Department to ship transuranic (TRU) waste from sites located across the country to the Waste Isolation Pilot Plant in New Mexico. | Photo courtesy of the National Museum of Nuclear Science & History
Earlier this month, the National Museum of Nuclear Science & History (a Smithsonian affiliate located in Albuquerque, New Mexico) added a new exhibit to the museum's impressive collection of artifacts that chronicle the nation's nuclear history.
The new exhibit features a transportation system used by the Energy Department to ship transuranic (TRU) waste from sites located across the country to the Waste Isolation Pilot Plant (WIPP) near Carlsbad, New Mexico. Since the 1940s, TRU waste materials have been generated in the U.S., most of which originated from nuclear weapons production facilities for defense programs. According to the Environmental Protection Agency, some TRU waste consist of items like rags, tools, and lab equipment that have been contaminated with radioactive materials. Other forms of TRU waste include organic and inorganic residues or enclosed contaminated cases in which radioactive materials were handled.
The exhibit includes a cut-away of the Transuranic Package Transporter, Model 2, or TRUPACT-II, the shipping package used in WIPP's transportation fleet. Each TRUPACT-II shipping package measures approximately eight feet in diameter and 10 feet high, and is constructed with leak-tight inner and outer containment vessels. TheTRUPACT-II can hold up to fourteen 55-gallon waste drums, two standard waste boxes with 63 cubic feet capacity each, or one 10-drum over pack (a container designed to provide additional protection for older waste drums).  
In the WIPP site's 12 years of safe operations, more than 24,000 TRUPACT-IIs have been received and processed -- and this September the site celebrated its 10,000th shipment of defense-related TRU waste.
Though the museum is closed on the upcoming Thanksgiving holiday, you can see the TRUPACT-II exhibit in person by visiting the museum between 9am and 5pm daily.
Originally known as the National Atomic Museum, the facility was established in 1969 as a place to learn the story of the Atomic Age -- from early research of nuclear development through today's peaceful uses of nuclear technology. Visit the website to learn more about the numerous other exciting exhibits at the museum.