You are here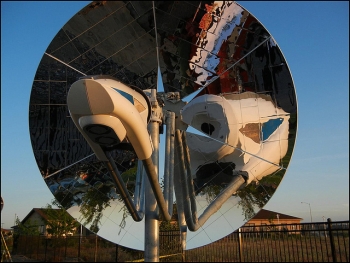 In the photo above, a mirrored parabolic dish directs sunbeams to a central point, where a device absorbs the solar heat to make syngas, solar-boosted natural gas. This new system was recognized with a 2014 R&D 100 Award. | Photo courtesy of Pacific Northwest National Lab.
From solar-boosted natural gas to a more efficient electric vehicle battery charger, innovations by the Energy Department's National Labs swept the field in this year's R&D 100 awards, the "Oscars of Innovation." In total, the Energy Department's National Labs won 31 of 100 awards in the competition.
The R&D 100 awards are given annually in recognition of exceptional new products or processes that were developed and introduced into the marketplace during the previous year. To be eligible for an award, the technology or process has to be in working and marketable condition -- no proof of concept prototypes are allowed -- and had to be first available for purchase or licensing during 2013. The awards are selected by an independent panel of judges based on the technical significance, uniqueness and usefulness of projects and technologies from across industry, government and academia.
Some of the highlights from this year include:
Since 1962, when the annual competition began, the Energy Department's National Labs have received over 800 R&D 100 awards.
Follow along on Facebook, Twitter and Google+ as we profile the R&D 100 award winners from the Energy Department's National Labs.