You are here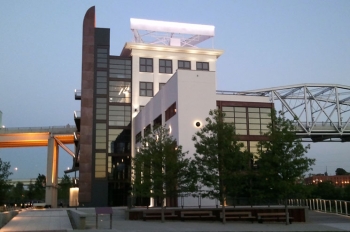 The completed Nashville Bridge Company's building (called NABRICO for short) includes a geothermal heat pump system to keep public energy costs low. | Photo courtesy of David Powell, AIA.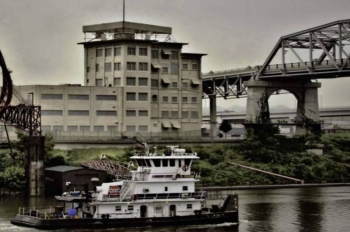 Built in 1908, the NABRICO building was once a vital asset to Nashville's local economy. | Photo courtesy of Barry Griffith.
The year was 1908, and Nashville, Tennessee, businessman Arthur Dyer erected a six-story, 5,000-square-foot office building on the east bank of the Cumberland River for his newly founded Nashville Bridge Company.
The new Nashville Bridge Company's building -- called NABRICO for short -- became a key industrial asset and was widely known as the site where new river barges were dropped into the river in splashy public launching ceremonies.
In the decades that followed, the Cumberland River saw its role as the city's primary economic asset relegated to secondary status as road, rail, and air transportation networks became more relevant to the local economy.
By the mid-1990s, the company no longer had any use for the downtown site, but the city had something in mind. Nashville began redeveloping the entire riverfront to accommodate a new stadium for the city's recently acquired NFL franchise, the Tennessee Titans.
The historic NABRICO structure was the only building from the city's industrial past spared from the wrecking ball as the new multi-million dollar sports complex took shape nearby. Despite some initial stabilizing work, the full redevelopment of the NABRICO building had to wait for additional funding to convert it into the centerpiece for the riverfront urban park. The building's stark concrete shell stuck out like a sore thumb when people downtown looked across the river to the gleaming new stadium.
Local leaders saw the unique opportunity presented by the Energy Efficiency and Conservation Block Grant (EECBG) program and used $583,000 of the state's grant funding from the Energy Department to install a geothermal heat pump system at the NABRICO building as part of a complete retrofit to the century-old structure. Using EECBG funds for the geothermal portion of the project freed up local funds critical to completing the building's extensive interior renovation, which the city hopes will result in a LEED Platinum certification and keep future public energy costs low. Following a ribbon-cutting ceremony last spring, the NABRICO building, since renamed the "Bridge" building, officially began a new energy-efficient chapter in its life at the heart of the Nashville riverfront park in a way that Mr. Dyer could have never predicted more than a century ago.